The new 2012 Hyundai Genesis Coupe has just been spotted inside Hyundai facilities. Hyundai has confirmed with other Australian media that the next-generation Hyundai Genesis Coupe will be heading Down Under, and this spy shot could very well be the model that we get.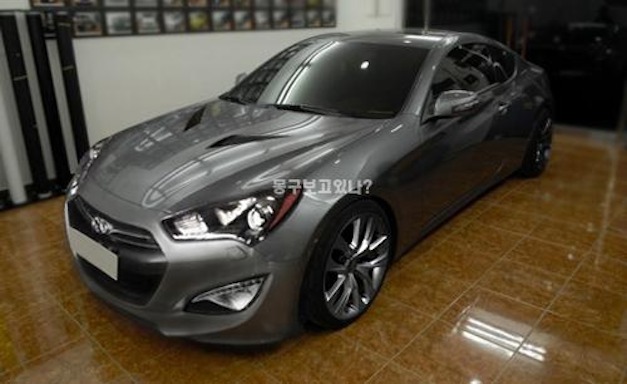 Although there is no confirmation on whether this snapped spy shot, originally posted on Hyundai-Blog, is in fact the 2012 Hyundai Genesis or simply a concept version, it shows a new face which is consistent with Hyundai's latest design language – also seen on the sporty Hyundai Veloster.
At the front, there's the new central grille layout and front fascia which incorporates a black centre section. While at the front corners sit two sharp inverted, almost angrily arranged frowning spotlight clusters.
Since the new 2012 Hyundai Genesis Coupe will be pitched up against cars such as the Nissan 370Z – and the BMW M3 to a certain extent – the rear-wheel drive coupe also features a number of aggressive styling highlights, such as the vents in the bonnet, darkened headlight backgrounds with a string of LED lights along the bottom, as well as a lip extension moulded into the lower front bumper bar.
As for the powertrain, Hyundai Australia hasn't finalised definite specifications for the local lineup, but various international reports have said the new 2012 Hyundai Genesis Coupe will come in two different engine trims; Hyundai's new 2.0-litre turbocharged four-cylinder from the US-market Sonata, outputting 204kW and 364Nm, as well as a flagship 3.8-litre V6 version outputting 248kW and 294Nm.
Reports say Hyundai is planning to unveil the new 2012 Hyundai Genesis Coupe in full in January at the 2012 North American International Motor Show in Detroit, USA. The Hyundai Genesis Coupe local on-sale date is yet to be announced but it's likely to occur in 2013.