It looks like the new 'A90' Toyota Supra will make some kind of debut at this year's Goodwood Festival of Speed event in the UK, with the company posting a teaser on its Twitter account recently.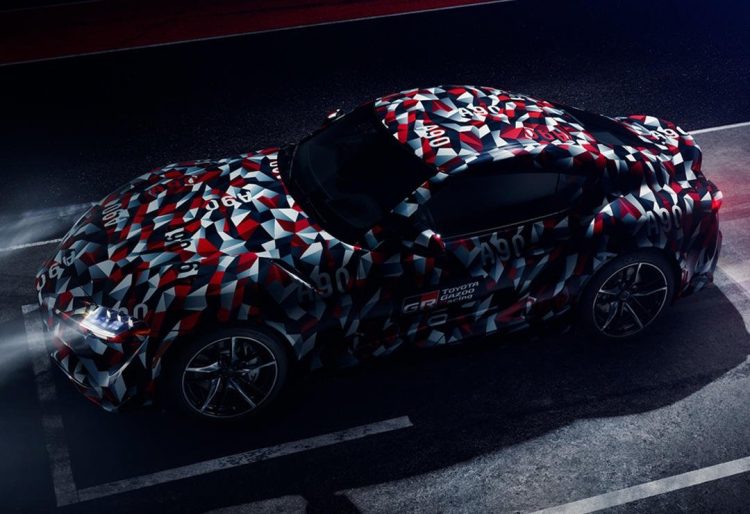 The Tweet includes an image of the new model, although it is covered in disorienting, almost psychedelic wrapping to confuse us. However, the general body shape and proportions are clear to see, including some sexy rear haunches.
Now, at this stage it's unclear if Toyota is planning to officially unveil the new model, known as the A90 Supra, at the Goodwood event, or if it is simply planning to showcase a prototype version. It's hoped that Toyota will at least show off the car's performance during the hill climb event. The Tweet simply says: "#ToyotaSupra is back. A90. At Goodwood Festival of Speed 2018."
As far as we know the new Toyota Supra will come with a range of BMW-derived engines, chief among which is set to be the 'B58' 3.0-litre turbocharged inline six. In various BMW vehicles the engine produces 250kW and 500Nm. There is speak of a 'GRMN' performance model being in the works, while a 2.0-litre turbo four-cylinder is set to kick off the range producing around 185kW.
While BMW does offer a manual transmission with the B58, as seen in the M140i, for example, it's understood the A90 Supra will be offered with an eight-speed automatic only. As we all know, BMW has partnered up with Toyota to co-develop the platform, which BMW will use for the next Z4. It looks like the Z4 will be offered with a manual. All are rear-wheel drive.
BMW will reportedly unveil the Z4 during an event in the US some time during the middle of this year, which means the Supra's debut could take place very soon, potentially at Goodwood. We'll have to wait and see for more details. It all starts on July 12.
UPDATE: Toyota Australia has confirmed a prototype of the Supra will make its debut at the Goodwood Festival, and run in the hill climb. Another teaser image has also been released, showing the rear end. Toyota said:
"Sports car fans will get a taste of the performance potential of the all-new Toyota Supra when a production prototype makes its global debut at the Goodwood Festival of Speed in the UK. Toyota chief engineer Tetsuya Tada and master driver Herwig Daenens will race the reborn legendary coupe up Goodwood's iconic hill climb course each day of the Festival that runs from July 12-15."
Toyota Australia is yet to receive official confirmation if the new model will be offered locally, but it does seem likely. Toyota Australia vice-president sales and marketing, Sean Hanley, said:
"The Supra nameplate commands enormous respect and there has been huge public interest in the development of the new model so we would like to see it on Australian roads. It's a car that truly demonstrates Toyota's commitment to building and selling cars that really stir the emotions and deliver superb driving excitement."
Toyota says the new model will hit international showrooms in 2019, confirming that it will be available with an inline six front-mounted motor. The company said:
"To ensure that performance, the new Supra will feature a front mounted in-line six-cylinder engine that drives the rear wheels to provide true sports car character."