Nissan has unveiled the new 2013 Nissan GT-R. It was speculated to offer 425kW. Although it falls slightly short of the mark, it does come with an optional new TRACK PACK.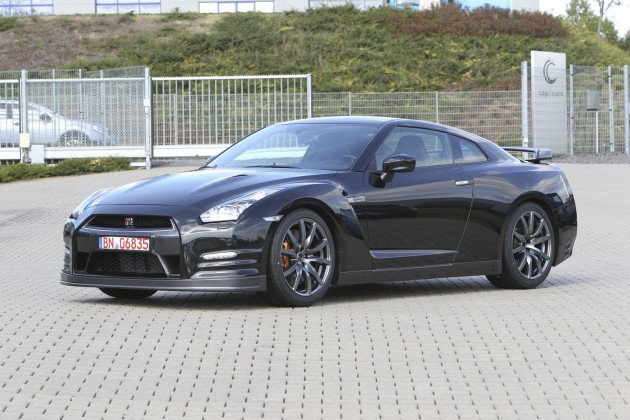 The 2013 Nissan GT-R gets 404kW of power and 632Nm, up 15kW and 20Nm over the current model. Nurburgring times are likely to fall as a result, from the current 7:24 to around 7:15. As for the 0-100km/h, Nissan is yet to release official figures – the current model manages it in just 3.0 seconds.
Nissan introduces a new 2013 Nissan GT-R TRACK PACK for the hardcore enthusiasts. Previously, this pack was only available to Japanese and UK customers. The pack shaves weight by ditching the rear seat and swapping various standard components for lightweight items.
The wheels, for instance, are lightweight Rays Engineering items, while the front end incorporates a comprehensive carbon fibre air intake system. The TRACK PACK also comes with specially upholstered leather seats providing optimum grip to the driver and passenger. Revisions to the suspension settings for track driving are made as well.
Other changes for the 2013 Nissan GT-R update include an asymmetric suspension setup which is better balanced for right-hand drive versions, while the body of the GT-R has also been made more rigid for optimum 'inter-vehicle detection capability' and handling. All 2013 Nissan GT-R models also come with the option of Nissan's NCCB (Nissan Carbon Ceramic Brakes) for the ultimate in stopping power.
Not that you're really worried about fuel consumption when you're doing 0-100km/h in, at most, 3.0 seconds, Nissan has also reduced the average rating for the 3.8-litre twin-turbo V6, from 12.0L/100km to 11.8L/100km.
Additional update details include:
Enhanced transmission shift feel
Special race tuned oils used in differential
Body strengthened for even greater handling finesse
Ceramic brakes option according to model
New Bose Precision Sound System woofers
Rear view camera now standard
New version 'For TRACK PACK' enhances GT-R's pure performance (RHD only)
The new model – plated locally as a 2012 model year – will hit Australian shores in March 2012. Prices will start at $170,800 (up from the current $168,800).
Click play on the 2013 Nissan GT-R promo video below for a bit of a preview.