The gauntlet has been thrown down by SUVs to the rest of the market. The popular vehicle type outperformed any other sector in Europe in 2015, according to statistics from JATO Dynamics.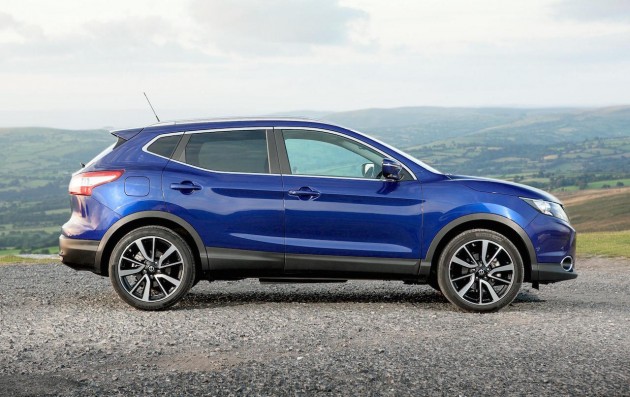 European new car registrations jumped by 9.3 per cent in 2015, riding on a wave of popularity in the booming jumped-up wagon market, especially since the introduction of smaller compact crossovers and SUVs. The results are clear. SUVs large and small dominated the sales figures, with total market share rising from 19.8 to 22.5 per cent out of all vehicle types.
Small SUVs made up nearly 38 per cent of the SUV market share which managed to smash the 1 million unit mark by 200,000 units. This is the result of a 38 per cent jump in sales from 2014 to 2015. But the star performer in the category is the new and ever-popular compact SUV market. (Small and compact SUVs are grouped in the same category in Australia.)
The conquering compact SUV class claimed a 40 per cent SUV market share. A massive 24 per cent year-on-year increase in the SUV market accounted for a total 3.2 million units sold in Europe.
Registrations of SUVs increased in every European country analysed, with the greatest growth shown by the UK with numbers up from 501,000 to more than 630,000. Rates in Portugal, Spain, Denmark, Croatia and Greece each grew year-on-year by more than 40 per cent.
Digging a little deeper, we can see that Nissan commands the sales lead, with an 11.8 per cent share. Renault claimed second place on the back of its new Kadjar and Captur models, resulting in an 44 per cent increase in annual sales. Automotive analyst Felipe Munoz at JATO Dynamics offered the following insight:
"Similar to the shift towards SUVs in the US car market, Europeans are clearly favouring these vehicles. In 2015 this segment drove most of the growth as more consumers moved away from the traditional segments and MPVs, towards SUVs and crossovers. Both economic and social factors such as the lower fuel prices and the growing appeal of SUVs' benefits had a big influence on this sales boom."
The best-selling SUV models by size were as follows, with the Volkswagen Golf remaining the best-selling vehicle overall in Europe in 2015.
Small: Renault Captur
Compact: Nissan Qashqai
Mid-size: Volvo XC60
Large: BMW X5
In Australia, SUVs accounted for 35.6 per cent of the market share during 2015 (second most popular class). SUVs contributed 408,471 sales to the overall 1,155,408 vehicles sold in the country (including light and heavy commercial vehicle sales). The figure is up 15.9 per cent compared with SUV sales during 2014.