Ford Australia has used social media to confirm the upcoming arrival of the Ford Endura ST-Line. The Endura launches late this year, coming in as a replacement for the Territory, based on the overseas Ford Edge.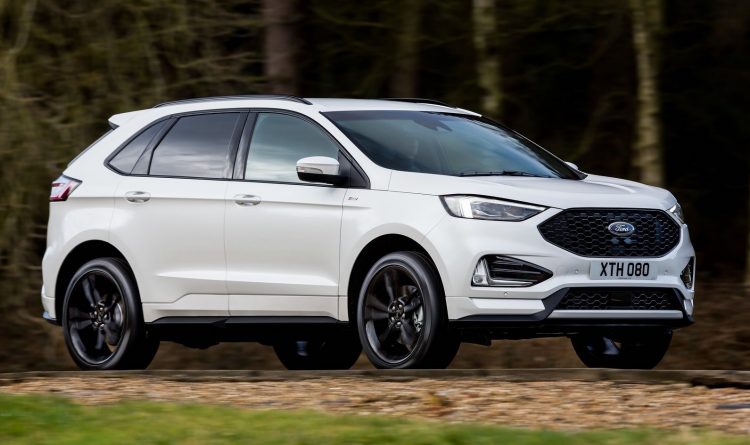 You can think of ST-Line as an intermediate step between the semi-hardcore ST models, such as the Focus ST and Fiesta ST, and the regular stuff. No specifications or concrete details are revealed, but Ford Australia sent out a video onto its Facebook page and YouTube channel outlining the sporty version.
The video shows a "pre-production" model wearing Victorian number plates, which means the vehicle is finished and complied for Australia. There's a quick look at the interior, including the instrument cluster which shows the same 260km/h speedo as the Euro-spec Ford Edge ST-Line (pictured in white, and interior photos), as well as shots of the exterior.
In the US the Edge is offered with a powerful 2.7-litre twin-turbo V6 petrol engine that produces 250kW. However, Australia won't be offered this engine. In Europe the ST-Line is presented with a 2.0-litre 'EcoBlue' twin-turbo diesel four-cylinder unit that produces 175kW. This is more likely to be the engine offered in Australia. It also comes in 140kW and 110kW tune in Europe.
Instead of outright speed and under-bonnet bragging rights, the Endura ST-Line is set to come with a range of cosmetic enhancements over the regular Endura, such as a subtle bodykit with some colour-coded trimmings, plenty of contrast black highlights, 20-inch alloy wheels, and a neat diffuser and dual exhaust system for the rear.
Sports suspension with Ford's Adaptive Steering should help to give the SUV a more lively driving feel, while paddle shifters for the eight-speed automatic transmission and alloy pedals will encourage the driver. As briefly shown in the video, passengers are treated to some sporty seats and ST-Line details as well.
The Ford Endura ST-Line and regular Endura will go on sale in Australia around December this year. It will be a five-seat SUV, powered exclusively by diesel engines. It will be sold along side the Everest. Prices and final specs will be announced closer to launch.