Toyota and Nickelodeon; now that is what dating app Tinder would call a match. Last year, the Japanese car brand and the American television network already held hands for a SEMA 2013 project, resulting in a SpongeBob-inspired Highlander. One year later, Toyota obviously still has a soft spot for the spongy superstar. Guess whose yellow features ornamented an exclusive Sienna parading at the Los Angeles Auto Show yesterday? You bet.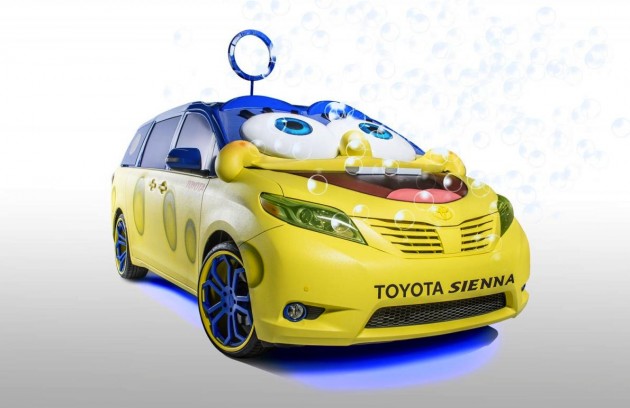 The car fashion police cannot possibly ignore the overwhelming presence of blue and yellow in this automotive conversion of Bikini Bottom's most absorptive citizen. The windshield is almost completely obliterated by the latter's ecstatic bulging eyes, while his huge two-toothed smile embellishes the bonnet. But the item that will surely tug at the kids' heartstrings is the Superhero Incredibubble mask, which initially looks like a bizarre rooftop decoration, but is in fact a one-of-a-kind bubble blower – you never know when you might need it.
On the inside, a ship's wheel in electric blue and a sand-simulating floor immediately capture every gaze. Furthermore, each seat mimics a member of Mr. SquarePants's social circle. For instance, the one in pale pink and mint green mirrors the feeble-minded starfish Patrick, whereas the navy and ruby piece echoes Mr. Krabs. Afraid to drown in this sea of possibilities? No fear, there is a life ring on board.
Yet even Tinder can distinguish a marriage of convenience. This revived relationship is Nickelodeon's way of advertising The SpongeBob Movie: Sponge Out of Water, in which the eponymous squishy hero leaves his aquatic pineapple house for an adventure above sea level.
The SpongeBob Sienna is now ready for a promotional tour throughout the United States until the film's premiere on February 6, 2015. While Nickelodeon hopes to harvest fat crops of dollars at the box office, Toyota aspires to boost its minivan sales. There is nothing left for us but to pray that the bubble blower will make it to the production Sienna accessories list soon.