Isuzu Ute Australia is launching the 2017 D-Max, which introduces a comprehensive powertrain update, along with exterior and interior tweaks.
Firstly, the engine remains a 3.0-litre turbo-diesel four-cylinder. However, it now features a diesel particulate filter, a new variable geometry turbo, and new pistons. These help to provide more torque and lower emissions, now passing Euro 5.
Power remains the same as before, at 130kW, but torque is boosted from 380Nm to 430Nm. This is sent through a new-to-D-Max Aisin six-speed automatic, or Isuzu-developed six-speed manual.
In other areas, the 2017 D-Max features a tweak front end design, with new headlights embedded with daytime LED running lights, a restyled grille and bumper, and some new alloy wheel designs.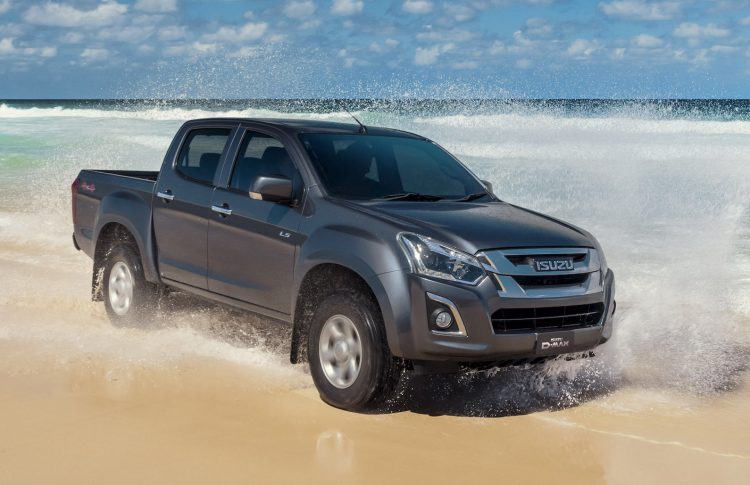 Inside, the D-Max now comes with a touch-screen interface. In the upper-end variants there's a range of in-built apps and a rear-view camera, while the lower end models get a slightly more basic system.
The rest of the D-Max remains mostly unchanged, including the suspension and steering, 3500kg braked towing capacity, while the interior continues to showcase a rugged and durable setting with plenty of hard-wearing materials.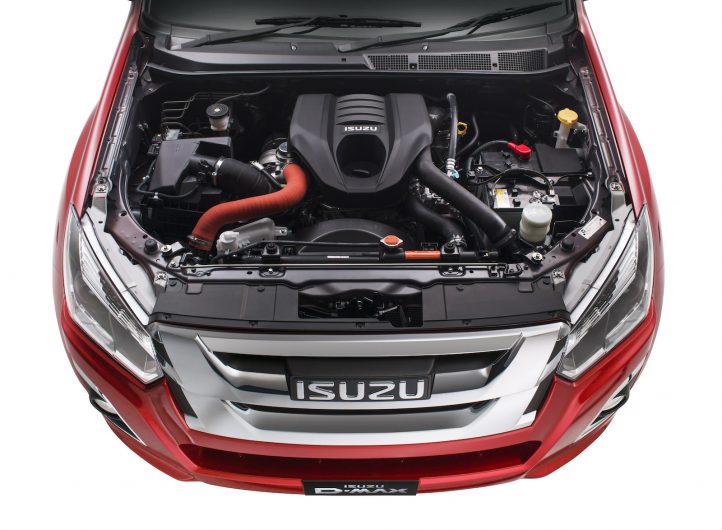 Market entry officially kicks off on March 1, although the company says there has been plenty of interest already taken in. Head over to our Australian launch review for more info, and see below for starting prices (excluding on-road costs):
4×2
2017 Isuzu D-Max SX single-cab-chassis manual – $28,500 (up $1000)
2017 Isuzu D-Max SX single-cab-chassis Hi-Ride auto – $31,700 (up $1000)
2017 Isuzu D-Max SX crew-cab-chassis Hi-Ride auto – $37,300 (up $1000)
2017 Isuzu D-Max SX space-cab ute Hi-Ride– $35,500 (up $1000)
2017 Isuzu D-Max SX crew-cab ute manual – $34,500 (up $1000)
2017 Isuzu D-Max SX crew-cab ute Hi-Ride auto – $38,000 (up $1000)
2017 Isuzu D-Max LS-U crew-cab ute Hi-Ride auto – $43,600 (up $1400)
4×4
2017 Isuzu D-Max EX single-cab-chassis manual – $34,800 (up $800)
2017 Isuzu D-Max SX single-cab-chassis manual – $38,000 (up $1000)
2017 Isuzu D-Max SX single-cab-chassis auto – $40,100 (up $1000)
2017 Isuzu D-Max SX space-cab manual – $40,700 (up $1000)
2017 Isuzu D-Max SX space-cab-chassis auto – $42,800 (up $1000)
2017 Isuzu D-Max SX crew-cab-chassis manual – $43,200 (up $1000)
2017 Isuzu D-Max SX crew-cab-chassis auto – $45,300 (up $1000)
2017 Isuzu D-Max SX crew-cab ute manual – $43,900 (up $1000)
2017 Isuzu D-Max SX crew-cab ute auto – $46,000 (up $1000)
2017 Isuzu D-Max LS-M crew-cab ute manual – $46,400 (up $1400)
2017 Isuzu D-Max LS-M crew-cab ute auto – $48,500 (up $1400)
2017 Isuzu D-Max LS-U space-cab ute manual – $46,200 (up $1400)
2017 Isuzu D-Max LS-U space-cab ute auto – $48,300 (up $1400)
2017 Isuzu D-Max LS-U crew-cab ute manual – $48,300 (up $1400)
2017 Isuzu D-Max LS-U crew-cab ute auto – $50,400 (up $1400)
2017 Isuzu D-Max LS-T crew-cab ute – $54,200 (up $1700)