If you could buy any new car in the world right now, no matter what the price, what would you buy? It's a question that we're always asked and we're sure you've thought about it many times as a car enthusiast. The answer inevitably points to something extravagant and eye-openingly expensive. That got us thinking, what is the most expensive new model, road-legal car you can currently buy in Australia? Here are the top 10, from least to most expensive (all excluding on-road costs).
2014 Aston Martin Vanquish
Price: $472,840 to $510,040
Engine: 5.9-litre V12, 422W/620Nm
Performance: 0-100km/h in 4.1 seconds, 295km/h top speed
If it's good enough for James Bond it must be on the list, right? The new Vanquish, released last year, received a number of significant updates. Most notably to the 5.9-litre naturally aspirated V12 engine. Aston engineers fiddled with components and tweaked tuning to optimise performance further than ever. The new model is also lighter and more rigid than its predecessor, featuring new carbon fibre panels. As a result, the body is up to 25 per cent more rigid. As far as dream cars go, this is one that should be part of anyone's dream car garage.
Ferrari 458
Price: $525,417 to $588,451
Engine: 4.5-litre V8, 425kW/540Nm
Performance: 0-100km/h in 3.4 seconds, 325km/h top speed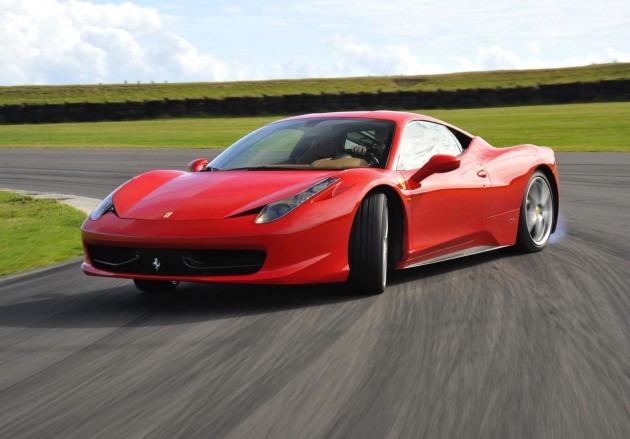 Ever since it debuted in 2009 the 458 has been regarded as one of the very best driver's cars on the market. It's all about pure balance, emotion, and passion. The high-revving V8 sounds like the god of thunder having an orgasm, while the dual-clutch transmission and locking-diff-equipped rear-wheel drive drivetrain provides a sensational driving experience. If the coupe is not exciting enough for you, the Spider gets your ears even closer to the screaming induction of the V8. Ferrari Australia did introduce the Speciale track-ready version last year, but only a limited number made it here and all have been sold.
Ferrari FF
Price: $624,646
Engine: 6.3-litre V12, 486kW/683Nm
Performance: 0-100km/h in 3.7 seconds, 335km/h top speed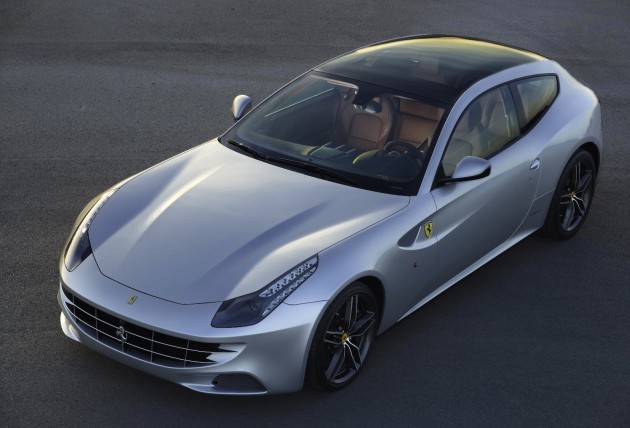 Without upsetting the fans too much, Ferrari has managed to introduce its first-ever all-wheel drive production car. The FF is classed as a bit of a wagon, with its shooting brake hatch at the back, however, it's still a true Prancing Horse underneath. Ferocious power belts out immense g-forces through the clever all-paw drivetrain. As a bonus, the FF has four seats so you can take a few passengers along with you on your exhilarating journeys.
Mercedes-Benz SLS AMG Black Series
Price: $639,000
Engine: 6.2-litre V8, 464kW/634Nm
Performance: 0-100km/h in 3.6 seconds, 315km/h top speed
We got an exclusive first glimpse of the epic Black Series and a quick taste of its performance when the first example touched down in Australia last year. This is a beast of a car. It's really only useful on a track though. The suspension is hard, the cabin is plush, sort of, with inviting yet firmly bolstered bucket seats. Don't let the touch-screen interface and sat-nav fool you either. When that engine comes alive all you can do is sit back and ride the wave of V8 roar and the relentless forward thrust.
Rolls-Royce Wraith
Price: $645,000
Engine: 6.6-litre twin-turbo V12, 465kW/800Nm
Performance: 0-100km/h in 4.6 seconds, 250km/h top speed (electronically limited)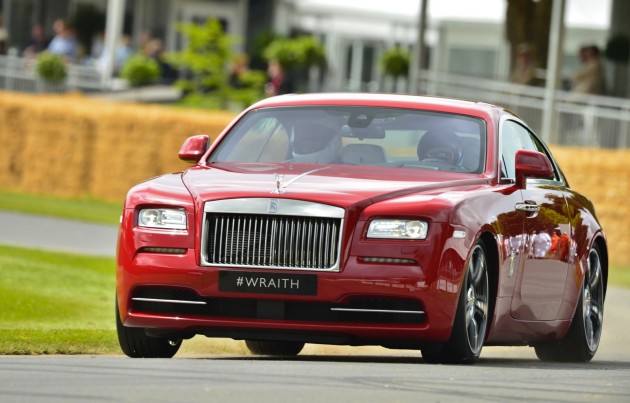 This is the two-door cousin of the Ghost. It is the automotive equivalent of a luxury yacht, only it looks more stunning and graceful. Inside is built using only the finest materials, with premium leathers and exotic woods. There's hardly any buttons or knobs to be seen. Instead, Rolls-Royce goes for an uncluttered layout with only necessary items presented to the passengers. Despite being as soft and relaxing as a well-oiled exotic massage, the Wraith is currently the company's quickest production car. The BMW-derived 6.6-litre twin-turbo V12 heaves the big coupe from 0-100km/h in just 4.6 seconds.
Rolls-Royce Ghost
Price: $609,000 to $655,000
Engine: 6.6-litre twin-turbo V12, 420kW/780Nm
Performance: 0-100km/h in 4.9 seconds, 250km/h top speed (electronically limited)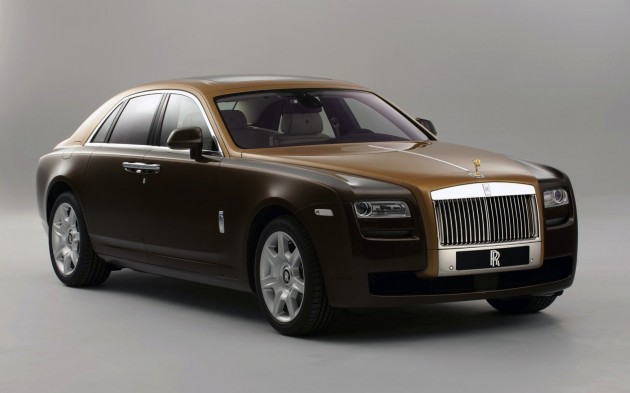 Much like the Wraith only it's a four-door sedan. It hit the market first, showcasing the company's ability to provide a product closer to the entry-level luxury segment. Underneath, it starts life as a BMW 7 Series, which gives it surprisingly rewarding driving dynamics. If you can't quite stretch to the company's flagship Phantom, this is the car you need to buy your driver. It's just as gorgeous to look at, and inside it provides supreme luxury.
Bentley Mulsanne
Price: $662,857
Engine: 6.75-litre twin-turbo V8, 377kW/1020Nm
Performance: 0-100km/h in 5.2 seconds, 296km/h top speed
If you were to walk into a Bentley dealership and ask for its best, most expensive model. This is what the salesperson would return with. Named after the main straight at Le Mans, the Mulsanne is very fast. Its famous 6.75-litre twin-turbo V8 propels the luxury sedan to a top speed of 296km/h, making it one of the fastest production sedans in the world. Not only is the performance impressive, the attention to detail is incredible. Bentley craftsmen take nine to twelves weeks to hand build each example that rolls off the production line. The engine alone takes around 30 hours to assemble. Exquisite.
Ferrari F12 Berlinetta
Price: $690,745
Engine: 6.3-litre V12, 545kW/690Nm
Performance: 0-100km/h in 3.1 seconds, 340km/h top speed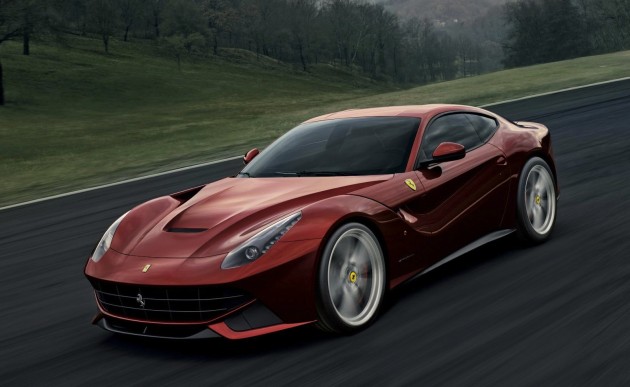 Without the LaFerrari, which is not legal on Australian roads, the F12 is currently the most powerful Ferrari you can get in Australia. It's a two-door, two-seat grand tourer that just so happens to a have a top speed of 340km/h. Many driving experts around the world have criticised the F12 for being too powerful. As far as problems go, having too much power is something we would certainly like to live with. You do have to pay for the privilege of having too much power though, with prices nudging $700,000. If you tick a few option boxes that price can easily blow out to $800,000 and beyond.
Lamborghini Aventador
Price: $761,500 to $795,000
Engine: 6.5-litre V12, 515kW/690Nm
Performance: 0-100km/h in 2.9 seconds, 350km/h top speed
The mighty Aventador carries on decades of heritage, following on from a lustrous lineup of V12 Lambos. The new model is all-wheel drive, thanks to a Haldex system, and is able to smash 0-100km/h in under 3.0 seconds. If you can imagine driving a car that looks this good and can also perform this well, you'll be prepared to pay an arm and a leg for one. And that's what the Aventador costs. It comes in coupe and roadster flavour, and is only available with something Lamborghini calls a single clutch independent shifting rod automated manual transmission ( …don't ask). If you want to make an entrance or be noticed, look no further. This is your car.
Rolls-Royce Phantom
Price: $809,000 to $1,019,000
Engine: 6.75-litre V12, 338kW/720Nm
Performance: 0-100km/h in 5.8 seconds, 250km/h top speed (electronically limited)
The pinnacle in automotive decadence. A Corolla over a million bucks gets you the most expensive car currently on sale in Australia. It's available in sedan, coupe, and Drophead coupe formats, which means, if you have the money, you can celebrate your wealth in three ways; a Phantom sedan for during the week when your chauffeur takes the helm, a coupe for a spirited skip through the countryside on Saturdays, and a convertible for the leisurely drive down to the harbour to check on your yacht. And it's the drop-top that has the biggest price tag here. Pure indulgence.