Ferrari has pulled the wraps of the new 2013 Ferrari F138 Formula One car ready for this year's season. The new car will be driven by last year's drivers, Fernando Alonso and Felipe Massa.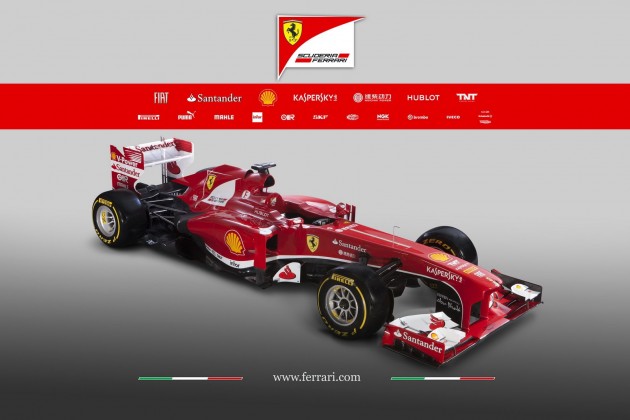 So, what's different about the F138 over last year's 'F2012' car? One of the biggest visual changes is the adoption of a 'vanity cover' on the nose, covering the kink/stepped arrangement introduced last year.
As part of the changed FIA rules for the 2013 season, all teams are now allowed to cover the kink. Although it does add some weight, it is able to increase front-end downforce at high speed.
At the rear, the F138 – Ferrari 20'13' 8-cylinder – has shrunken down and is now thinner with a revised Drag Reduction System (DRS) unit.
The rear end, and the entire new body in fact, was developed using Toyota's wind tunnel. Ferrari aims to rebuild its own wind tunnel after it apparently found testing data was not replicated on the track.
Ferrari says the main focus for the new model was to keep weight to a minimum, as well as reduce the size of mechanical components. A special focus was also put on improving reliability, with revisions to the engine and engine computers and electronics.
As we know, the 2013 season will be the last teams will use a 2.4-litre V8. As of 2014, 1.6-litre V6 units will be implimented. Ferrari president Luca de Montezemolo has openly expressed his disinterest in using a V6, saying,
"A V6 engine is not part of the Ferrari tradition and in the name of the F138 we are paying homage to the eight cylinder engine and the fact that this is the last year we will use it.

"I continue to maintain, for economic, musical and power reasons that it would be better to stick with eight cylinders. But the decision has been taken to build the V6 and, in fact, I'm sure Ferrari is capable of building the strongest V6 in the world."
The 2013 F1 season will start with the Australian Grand Prix on March 17.