The monstrous Infiniti QX80 Monograph concept has been fully revealed, giving us some clues of the design direction of future Infiniti SUVs.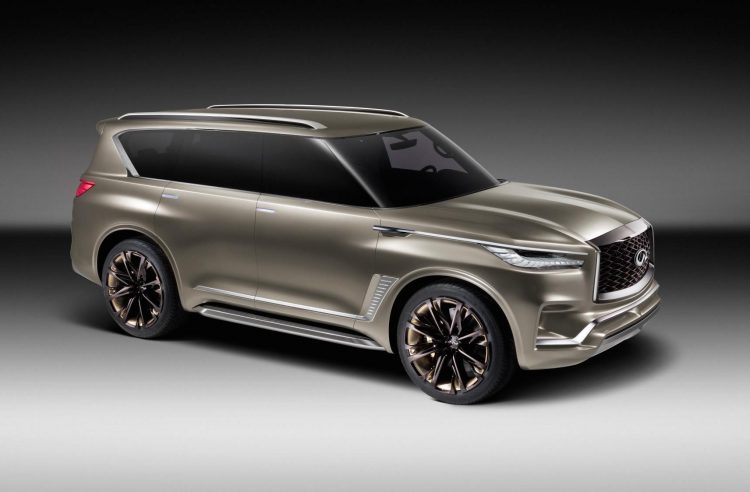 Infiniti says the concept has been designed to offer a commanding presence, along with high levels of space and utility, just like the existing QX80. Unlike the existing model though, the concept sports an all-new look for a more modern and striking appeal.
The company describes it as a more powerful and purposeful design, with large front guard vents, lots of aluminium trimmings, and massive two-tone 24-inch alloy wheels finished in chromium black with brushed copper.
Around at the back, the D-pillar is reshaped from the existing QX80, with a sharper and higher edge giving the impression of a wider and horizontal-themed upper body. Alfonso Albaisa, senior vice president, global design, spoke about the concept, saying:
"Earlier Infiniti show cars have started conversations with our customers, which gives us the chance to talk about the brand's future direction. We have listened to our customers to discover their expectations for a large SUV from Infiniti in 2017 and beyond. The QX80 Monograph illustrates how Infiniti's 'powerful elegance' design language could be used to develop our luxury SUVs in future."
Although this concept won't go into production as is, it will be used as inspiration for the design of the next-generation Infiniti's SUVs. Francois Bancon, vice president, global product strategy, said:
"The QX80 Monograph is an exploration of how we plan to take a step forward in the large SUV segment. This is an important initiative for Infiniti, as the QX80 is popular with buyers in a number of markets – particularly in North America and the Middle East."