Some details of Tesla's next Model S have seemingly been hacked, quite literally from within the current model's computer system. A hacker revealed there could be a "P100D" on the way.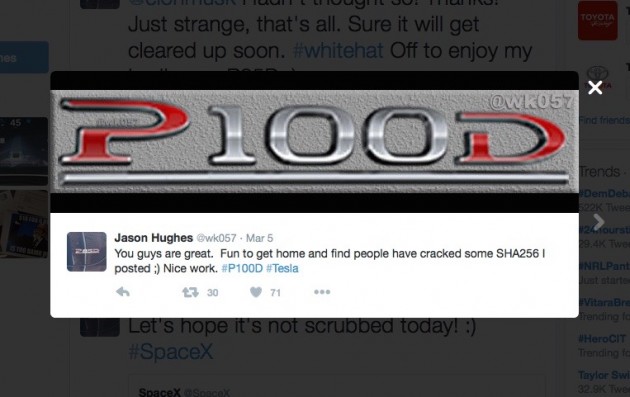 Hacker and Model S owner Jason Hughes managed to hack into the Model S's 7.1 software to uncover a code; SHA256. Once Tesla Motors Club forum got hold of it, a member soon decrypted the code to reveal P100D.
Hughes mentions on Twitter that since revealing the code Tesla has apparently tried to downgrade his car, to which Tesla boss Elon Musk replied: "Wasn't done at my request. Good hacking is a gift."
At the moment the flagship variant of the Model S is the P90D. The reveal of this name suggests there is a bigger and better version coming. Not only is a P100D expected to be more powerful, it's also set to bring a boosted driving range thanks to a larger capacity battery.
You see, the 90 in P90D refers to the 90kWh battery. With 100kWh on board the full-charge driving range could be extended from the current 500km rating.
Purely speculating and using the current lineup as a benchmark, we can roughly calculate a possible range of a 100kWh system. The 70D offers a range of 442km (AWD), while the regular non-P 90D (AWD) offers a range of 550km. This results in around 6.13km per kWh, meaning we could be about to welcome a range of about 613km (very approximate).
Perhaps more interestingly to us performance car enthusiasts, we might be looking at even more power and speed. The P90D is the most potent version now, capable of covering 0-100km/h in 3.0 seconds with Ludicrous mode engaged. What's next? 'Unbelievable' mode and 2.5 seconds?
More details on the P100D, if it turns out to be an accurate hack, are expected later this year.