Just a friendly reminder to all the street machine and four and rotary enthusiasts out there, Summernats 25 kicks off today! In case you forgot.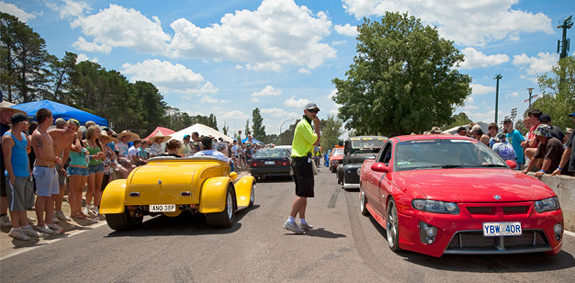 Summernats will be celebrating its 25th anniversary this year, kicking off with the reintroduction of the Citycruise today at 12pm noon. So if you're in the Canberra CBD area, expect to hear some roaring horsepower rolling by… if you haven't already.
Up to 200 specially picked machines are taking part in the Citycruise event. Summernats co-owner Andy Lopez recently said that the 200 vehicles selected for the Citycruise were a "cross-section of machines to best represent the Summernats". The cars were picked during scrutineering. He says that in the future the selection process will be more a fan's choice rather than hand-picked.
The Police and Roads ACT are on hand during the cruise to keep things from getting out of hand. Lopez says the event wasn't positioned for Saturday afternoon as organisers want to keep it family-friendly.
Summernats 25 will run, as usual, all weekend with various segments such as the Burnout competitions, Horsepower Heros, Show and Shine, Miss Summernats competition, Supercruise and live performances (this year by The Screaming Jets).
Ticket prices do vary from online early bird specials to family passes, with kids under 10 receiving free admission. Head over to www.summernats.com.au for more details.
Are you heading to the event and entering a car? Feel to comment below or even send us some images of your ride to info@performancedrive.com.au