The highly anticipated Subaru BRZ will apparently run in the 2012 season of the Super GT, Japanese Grand Touring Car championship (JGTC). Details recently emerged on a Subaru motorsport website, via FT86club.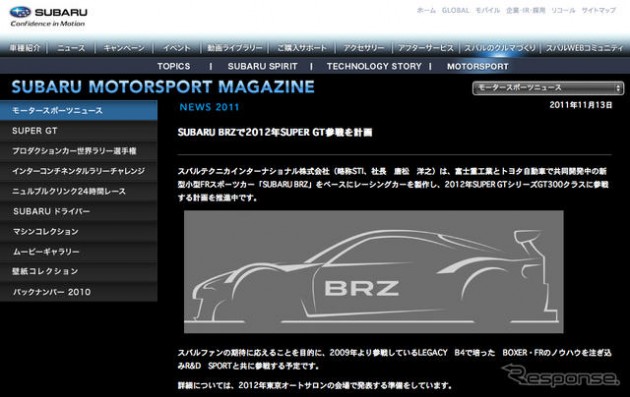 This very basic silhouette image shows what could potentially be the Subaru BRZ Super GT touring car. All aspects that are normally associated with Super GT (formerly JGTC) cars are there; there's an extremely low and chunky widebody bodykit, side skirts and front and rear spoilers. There's also a very aggressive splitter and rear diffuser arrangement.
Official details on the production car are still being sort. Understandably, details on a possible Subaru BRZ Super GT touring car are yet to be released or even confirmed. However, it is understood the race car will compete in the GT300 category of the championship – beneath the only other category, the GT500.
As one would expect, the GT300 class applies a restriction on engine power, to 300hp (224kW). Likewise, the GT500 class is for 500hp vehicles. More specific details on the engine are yet to be confirmed, however, like the production car, it would use a rear-wheel drive layout.
Stay tuned for more details. We can't help but wonder if Toyota is planning to do the same?