So you've decided it's time to upgrade the car. What do you buy? Well, most Australians in the new car market are buying one of these; the Mazda3. But which variant do you go for? Do you opt for the more expensive and more powerful Astina or do you just go with the rental-car-spec base model?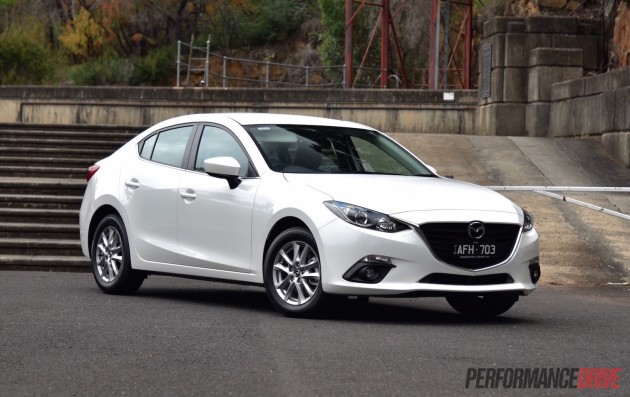 Fortunately, Mazda does offer a wide variety of trim levels for the Mazda3, from Neo, Maxx, Touring, SP 25, SP 25 GT, and the top SP 25 Astina. These are then offered with three different engines, further spreading the lineup to cover more buyer types and needs.
The Touring variant we're sampling here is about the mid-range option. It comes with a liberal dusting of luxury features and creature comforts, but it retains the base model 2.0-litre engine producing 114kW and 200Nm.
We've got the six-speed auto version, which is probably what most Touring buyers are going to go for. Prices start at $24,790 for the manual, plus $2000 for the auto. Hatch and sedan versions share the same price tag.
Mazda3 Touring – THE SPECS
Engine: 2.0-litre four-cylinder
Output: 114kW@6000rpm / 200Nm@4000rpm
Transmission: Six-speed auto
Drive type: Front-wheel drive
Wheels: F: 16×6.5, 205/60  R: 16×6.5, 205/60
ANCAP: Five stars (scored 36.40 out of 37)
Tare weight: 1260kg
Power-to-weight: 11.0:1 (kg:kW)
Official fuel economy: 5.7L/100km
Economy during test: 7.6L/100km
Fuel capacity/Type: 51L/91 RON
Power efficiency: 20kW:L/100km
0-60km/h: 4.38 seconds
0-100km/h: 9.28 seconds
1/8 mile: 11.02 seconds at 110.3km/h
1/4 mile: 16.81 seconds at 137.9km/h
100-0km/h braking: 3.20 seconds at 42.92 metres
Decibel at idle: 40.5
Peak decibel at 60-100km/h: 86.1
Peak stereo decibel: 101.7
Priced from: $26,790
Mazda3 Touring – THE PACKAGE
If you're after a bit of luxury, the Touring could be the perfect option for you. It comes with leather seats as standard, which, in the front, offer excellent comfort and support with nicely bolstered wings without being too deep.  The front chairs might be a bit small for larger individuals, however.
In the back it's comfortable enough and certainly at the segment standard in terms of legroom and headroom. The flip down centre armrest presents a couple of cup holders for added convenience, but unfortunately there are no air-con vents in the rear of the main centre console. These are often forgotten about by manufacturers, leaving rear passengers to either swelter or freeze in summer and winter.
In terms of standard features the Touring is lavishly equipped. It gets Mazda's awesome MZD Connect infotainment system with a tablet-style screen on the dash displaying nice clear graphics and instantly understandable menus, operated via an easy-to-reach hand controller down on the console.
The system includes everything a modern driver could need, including sat-nav, full smart phone connectivity, and in-built music apps Pandora and Stitcher. We didn't try Stitcher but the Pandora apps works perfectly, remembering the last song from when you last drove the car and withholding ads that are otherwise played on your phone.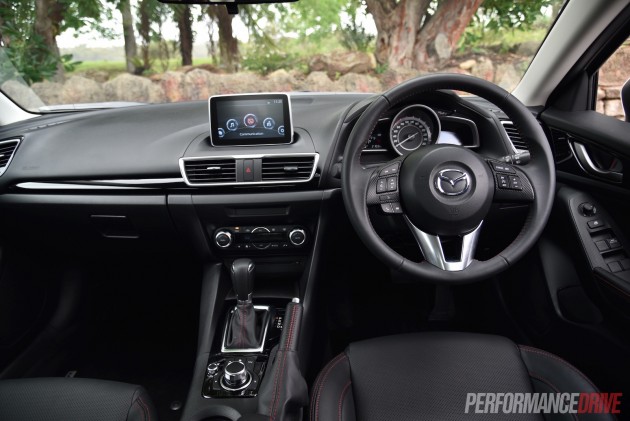 The screen also doubles as a display for the standard rear-view camera, and is connected up to a rather decent six-speaker stereo. At full blast the stereo pumped out 101.7dB during our usual test, and it performed very well even at max volume, producing good clarity through all ranges from treble and down to bass.
Choosing between the sedan and hatch can seem difficult, but it's actually a no-brainer as far as we're concerned. In the sedan there is 408 litres of cargo volume. Against the hatch's 308 litres it doesn't look good for the hatch, but in the hatch you have the convenience of folding down the rear seats to open up a huge wagon-like space. In the sedan the rear seats can be folded down but there is a only small hole to poke through long objects. If it were our money we'd be going for the hatch. Objects tend to roll right to the front of the sedan boot as well, which can be annoying to have to reach right in every time.
Then we get to the other part of practicality. Mazda, like many carmakers, decided to go with a space-saver spare wheel. Coincidentally for us, this presented an interesting and rather ironic problem. You see, the full-size wheel doesn't actually fit in the well under the boot floor where the space-save goes. So this means if you get a flat, you will have to throw most of your shopping in the bin to make room for the flat full-size wheel. Luckily, we weren't doing the weekly shopping and weren't hauling four passengers during our flat.
Mazda3 Touring – THE DRIVE
Driving the Mazda3 has always been a pleasurable experience. Everything operates exactly how you'd expect it to, and all controls seem like they were made for one purpose; to make the job of driving and commuting as easy and comfortable as possible.
As such, visibility is great through all directions. Blind-spots are minimal behind your shoulder, with no nasty surprises in terms of judging the width of the car in lanes and when parking. You do have to be a bit careful approaching driveways though as the nose can scrub out. But hey, that's just a sacrifice you have to make for the sporty exterior design.
It seems pointless to even mention this but the Mazda3 is definitely one of the best-handling mainstream small cars out there. It is really enjoyable to through down a set of bends, with precise and communicative steering and an extremely well-balanced chassis and suspension setup – for this type of vehicle anyway. In fact, the only aspect that stops it from being a real adrenaline-pumper is the tyres. The tyres are skinny, eco-focused types. But again, we must remember what this vehicle is designed for and only compare it to like-minded products.
We especially like the suspension setting. It is soft and relaxing, very absorbent, if a bit spongy, but it supports the weight of the car beautifully. It also irons over bumps with no shuddering or after-shocks being sent through the body like with some of the competitors. In our opinion, you wouldn't want any other setting for this style of vehicle. The Mazda is spot on.
You might remember at the beginning we mentioned the base-spec 2.0-litre engine. Driving around town the engine performs well in its duties, providing zippy acceleration while remaining as fuel-efficient as possible. During our week with the car it returned a respectable 7.6L/100km in real-world conditions. The official rating is 5.7L/100km, and although you could probably get our figure down with extended regular use (not test driving like us), it would be fairly ambitious to expect to get near the official rate.
It is a buzzy little unit, emitting a rather cheap high-pitch note. According to our decibel gauge the engine produces 86.1dB during 60-100km/h full-throttle acceleration. This is a very similar noise level to the Renault Megane R.S. 275 hardcore hot hatch we tested last week, and that was with the bi-modal exhaust open. In-car idle registered a whisper-quiet 40.5dB.
Lastly, outright performance is respectable for this type of car. We timed a best 0-100km/h of 9.28 seconds, and a quarter mile in 16.81 seconds. These times can be reduced with the manual transmission option – see our manual Mazda3 test here. And we don't mean to put down the six-speed auto. This is a good gearbox. It changes up and down very quickly, and on demand if you want it to. These performance figures are about on par with its main rival, the Toyota Corolla.
Mazda3 Touring – THE VIDEO
Mazda3 Touring – THE VERDICT
There isn't much not to like about the Mazda3. It brings the perfect amount of excitement and intrigue to the segment with its flash design and clever and modern interior, with excellent build quality in all areas. In the end it is a Japanese-made Mazda; a by-word for reliability and practicality. If you're in this space and looking for a new car, you simply mustn't take the humble Mazda3 for granted. Take one for a test drive to see for yourself. The only thing you need to do is figure out which variant you need, and what luxuries you want.
PROS:
– Modern and crisp styling
– Quality stereo, luxury appointments in Touring
– Fluid steering with enjoyable handling
– MZD Connect/infotainment system
– Nice seats and driving position
– Regularly the best-selling car in Australia

CONS:
– Noisy/buzzing engine note
– Space saver spare, full size wheel doesn't fit in boot well; defeats purpose