An example of the new Hyundai Kona compact SUV has been spotted during a photo shot, revealing Hyundai's Citroen-esque, albeit funky new styling direction for the first time.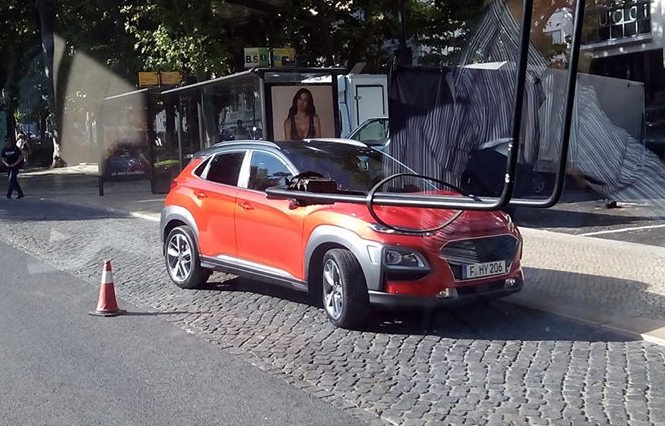 The Hyundai Kona was officially previewed a couple of weeks ago. It's going to be the Korean company's new compact SUV to sit below the Tucson, essentially filling the gap the ix35 left behind.
Not only is it an all-new model, the Kona will set the tone for Hyundai's future design language which is set to be applied to pretty much every model in the showroom.
As we can see, thanks to these images by an Auto Week reader, the Kona will sport plenty of attitude in terms of styling. There's a big front grille, similar to the grille on the latest i30, and headlights that are mounted lower down, almost in the bumper bar, with a thin string of LEDs edging the bonnet line.
This theme is very similar to the theme on some of Citroen's latest models in our opinion, particularly the C4 Cactus. Black plastic wheel arch moulds give it that rough-and-ready look, with a somewhat swooping roofline that curves off the tail end. Curvaceous compact SUVs are becoming a trend these days, with models including the Honda HR-V, Mazda CX-3, and new Toyota C-HR all taking a similar approach.
No specific details are confirmed with the images. Instead, it's just a nice early look before its debut in the coming months. Hyundai Australia has confirmed the Kona will be heading Down Under later this year.