The new Skoda Fabia R5 Concept rally car has been fully unveiled, which will effectively replace the Fabia S2000 next year. It's loosely based on the 2015 Fabia.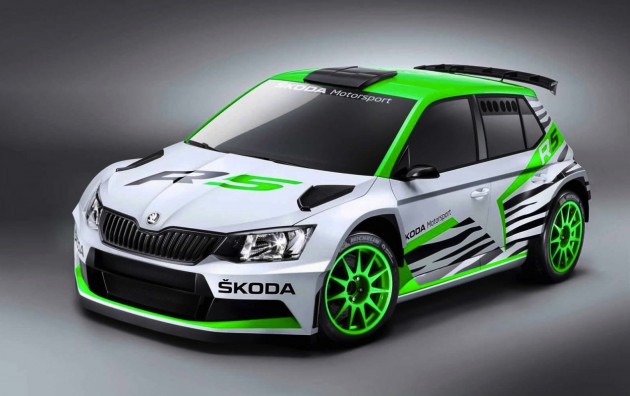 Skoda is using the Essen Motor Show to present the new rally car concept to the public, in Germany. The Essen show is like a European equivalent to the SEMA show in Las Vegas, mainly supporting aftermarket tuning and motorsport products.
The concept is built to FIA regulations so it is eligible to compete in the sport of WRC 2 next year. It features a turbocharged 1.6-litre four-cylinder engine matched up to a five-speed sequential transmission. Falling under the R5 category means the car is four-wheel drive and cannot weigh less than 1230kg.
Like all rally cars in the R5 category, the Skoda Fabia special is completely stripped out and comes with an extensive roll cage system to protect the passengers in the event of a crash. Skoda Motorsport director Michal Hrabáne, said,
"The world premiere of the Fabia R 5 Concept Car gives an insight into the future of rallying at Skoda. The Fabia R 5 is scheduled to be homologated by mid-2015."
As you can see, the concept looks awesome with pumped wheel arches, custom flares, and new race-ready bumper bars. There's also a neat wing at the back and various panel vents and scoops to keep things cool. The new-shape Fabia seems to lend itself very well to motorsport applications.
The Fabia R5 will go up against the likes of the Mitsubishi Mirage R5, the Toyota Yaris R5, and the Ford Fiesta and Citroen DS3 R5 in the new WRC 2 series in 2015. WRC 2 is a step below the top-running WRC teams and takes place along side WRC and runs on the same stages.