Kia is working on an all-new Kia K9 which will bundle all of the South Korean's technology and expertise into one company-first rear-wheel drive luxury sedan.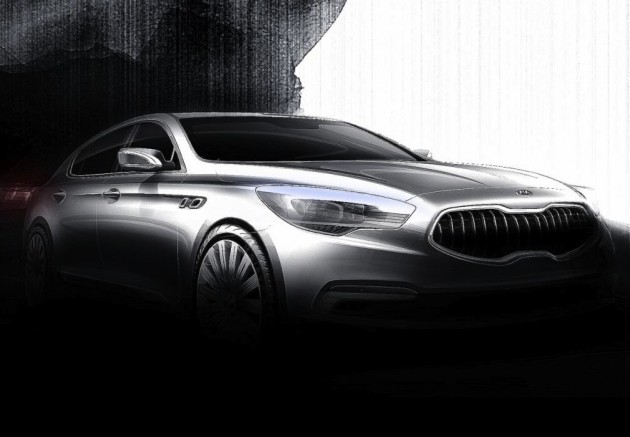 Kia has never made a rear-wheel drive car. The new Kia K9 will be the first, based on the Hyundai Genesis platform. It's set to rival the likes of BMW and Mercedes-Benz large luxury sedans, and will eventually go on sale in Europe, the US and Korea.
Featuring kit such as a new eight-speed automatic transmission, and later, a new 10-speed auto, the Kia K9 will be the company's most advanced model. As you can see from these sketches, it won't look half bad either, taking clear inspiration from the Kia GT Concept, which was first unveiled at the 2011 Frankfurt Motor Show.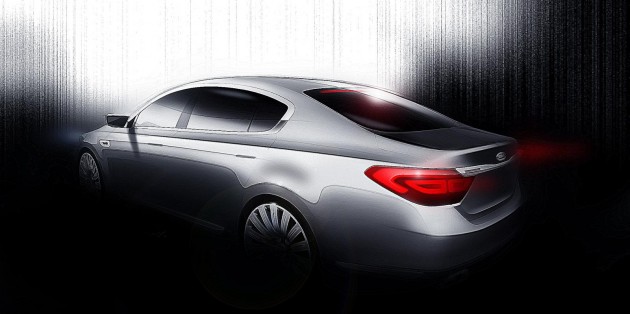 Under the bonnet, the K9 is expected to come with at least four engine options. Taking spot as the entry-level variant is set to be a 3.8-litre V6 churning out 248kW, then stepping up to a mid-spec 4.7-litre V8 with 287kW, to a range-topping 5.0-litre V8 producing 320kW. A diesel version is also on the cards.
As for the Australian market, although the model is yet to be confirmed, a production version of the Kia GT could make its way to Australian shores some time in 2014, according to industry reports. However, it is still early days yet.
The Kia K9 on the other hand, will go on sale before mid-2012 in Korea, and follow in other markets towards the end of this year.
Soon-Nam Lee, Kia's director of the overseas marketing group, recently spoke about the new K9, saying,
"Our all-new flagship sedan integrates all of our key capabilities such as design, performance, high-tech features and infotainment into one striking model.

"Although launch timings for overseas markets are yet to be confirmed, this all-new rear-wheel drive large sedan will definitely become the leading model of our line-up around the world, showcasing the best of the best of Kia."