When it comes to Italian flair and pizazz, the Fiat 500 has been the pioneer in the compact car segment. The 2013 Fiat 500 Sport promises maximum personality and style matched with supreme economy. Could it be the peppy companion you've been looking for?
The 500 Sport sits in the middle of the range, offering lightly salted sportiness for the otherwise economy-oriented bambino hatch. It comes with the third-most powerful powertrain in the 500 lineup, consisting of a 1.4-litre naturally aspirated four-cylinder producing a pokey 74kW and 131Nm.
It's available with either a six-speed manual (as tested) or a six-speed automated manual, feeding power to the front wheels.
In the past year, sales of the 500 have almost quadrupled. From January to September 2012, Fiat sold 364 examples of the 500 and Abarth. So far this year, during the same period, 1383 examples have left the showroom floor.
Fiat Australia revised pricing for its models earlier this year and now, as the facts seemingly prove, the 500 represents much better value for customers. Prices for the Sport start at $16,900, while the entry-level Pop is available from just $14,000 drive away.
2013 Fiat 500 Sport – THE SPECS
Engine: 1.4-litre four-cylinder
Output: 74kW@6000rpm / 131Nm@4250rpm
Transmission: Six-speed manual
Drive type: Front-wheel drive
Wheels: F: 15×6.0, 185/55  R: 15×6.0, 185/55
ANCAP: Five stars
Kerb weight: 970kg
Power-to-weight: 13.1:1 (kg:kw)
Official fuel economy: 6.1L/100km
Economy during test: 6.5L/100km
Fuel capacity/Type: 35L/91 RON
Power efficiency: 12.1kW:L/100km
0-100km/h as tested: 9.8 seconds
Priced from: $16,900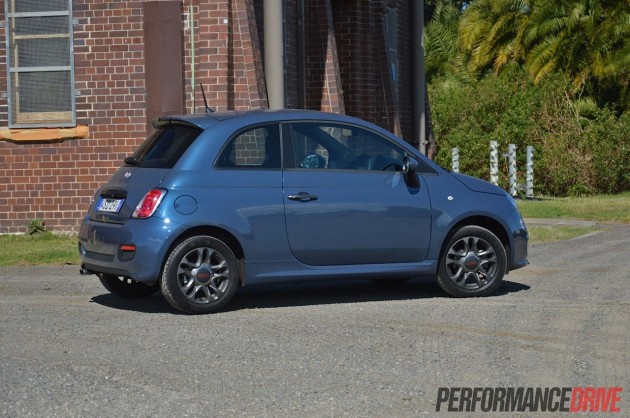 2013 Fiat 500 Sport – THE PACKAGE
Jumping into the 500 is an experience in itself. From the perched up seats, the dash-mounted gear lever, the huge power window buttons, to the lidless glove box; it's all very quirky and original.
It will take a while to get bored sitting inside the 500, although, some elements will take some getting used to. The audio system, for example, is quite cumbersome and fidgety, requiring multiple button pushes as you skip through various single-dimension menus. The digital graphics appear to be inspired by one of the first computers ever invented as well, with glowing orange characters.
The driving position is typically Italian, in that, it's slightly off centre and a bit awkward, especially for those who might be used to a Japanese or German vehicle layout. That's not to say it's a big negative thing. All seats are quite high from the floor which means you're presented with a wide open vista in front of you. Vision is excellent all round. With the windscreen and dash sitting relatively close, it almost feels like you wear the 500 as opposed to sit inside it.
Rear seat comfort and space, as you would expect in this segment, is rather tight. Legroom isn't too bad but headroom is confined. The two-seat bench would only be comfortable for children or short adults. In the front, there's no such issue unless you're really tall.
Loading up the cargo space won't take long, with 185 litres on offer. This is about average for this category, with the Audi A1 offering 270 litres and the MINI Cooper presenting 160 litres. If you fold the rear seats down it opens up 496 litres.
If you're considering the 500 you're obviously interested in the funky character and the Italian heritage. Fortunately, there's more to it than that. It's actually a well packaged product as well. There's one-touch power windows, Bluetooth and USB support, air-conditioning, and a 'Dualdrive' speed-sensitive electric power steering system with two driving modes.
The Sport variant adds a neat bodykit to the cute 500 body, with various black/dark grey highlights giving it that ever-so-fashionable contrast. There's also 15-inch alloy wheels hiding a larger disc brake package, a sports steering wheel with racy red stitching, and a sport button which alters the power steering and throttle response sensitivities.
In terms of safety, all variants come with traction and stability control, seven airbags, a Fire Prevention System, and a hill holder function for hill starts. Not only is it five-star approved by ANCAP, it's one of the safest super compacts on the market. It even comes with anti-submarining seats.
2013 Fiat 500 Sport – THE DRIVE
Powered by an energetic and bubbly little 1.4 engine, the 970kg 500 shifts along just fine for a daily commuter. There's a surprisingly eager mid-range, like a turbocharged engine, however, low-end pick up is very poor even with the sport button engaged. In other words, this baby likes to thrum with a fast tempo.
Poking in and out of city traffic is fun, again, so long as you keep the revs up. You'll also find it easy to park and thread through those tight inner-city streets thanks to the excellent vision, small exterior proportions, and short front and rear overhangs.
Where the 500 shines though is out in the countryside. You might not have thought a little car would be enthusiastic about stretching its legs out on the open road, but it's quite capable of putting a smile on your face. Pressing on in third gear through big dippers and bends is properly enjoyable. It dances from corner to corner, like a puppy playfully having a game of catch-me-if-you-can.
There is some minor body roll on initial pitch-in, and the high seats tend to topple you and your passengers around a bit. It doesn't ruin your confidence in the car's ability though. The chassis and car's platform hangs on and doesn't really understeer at all unless you ask it to break the laws of physics. The rear end stays planted too, which is quite an achievement considering it uses an old-school non-independent torsion beam setup.
Playing with the slightly forward-tilted steering wheel makes you feel like you're driving a bit of a go-kart. In sport mode, the steering is sharp and ambitious, ready to change the car's direction as quick as you are.
There's no doubt about it, the 500 is one of the most fun-loving cars in this segment. In that respect, it's a testament to its extensive heritage.
2013 Fiat 500 Sport – THE VERDICT
Now that the prices are down where they should be, the 500 is a proposition that should be high on your to-check list. The overall package is good, which is probably the most important criteria to pass in this entry-level market, and the fuel economy is right up there with the class best.
With the Italian personality and lively driving character, it stands out in the segment as something unique and special. If you're after a second car, a runabout, or a first car, this is the one to go for if you want the essentials along with a bit of character added in. Even if it takes some getting used to, it's worth your while.
As we've said about the 500 before, if you're in the market for a city car and have no interest in cars and just want a straight forward compact transportation device, you might want to check out the others. If you are, on the other hand, a bit of a car enthusiast, even only slightly, you must take one of these for a test drive. It brings back the spirit of driving.
PROS:
– Surprisingly strong mid-range
– Playful handling characteristics
– Cute design
– Fuel economy
– Well packaged

CONS:
– Cumbersome audio unit
– Poor low-end torque; needs to be revved
– Awkward driving position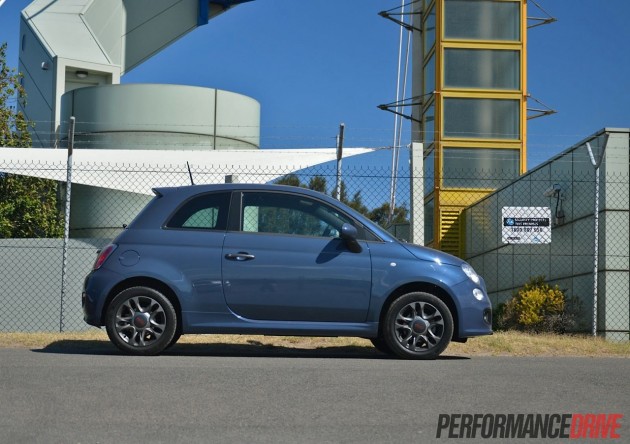 2013 Fiat 500 Sport – THE COMPETITORS
Ford Fiesta Trend (manual)
1.5-litre four-cylinder – 82kW-140Nm – 5.8L/100km – 1076kg – from $17,825
Skoda Fabia 77TSI (manual)
1.2-litre turbo four-cylinder – 77kW-175Nm – 5.5L/100km – 1130kg – from $18,990
Volkswagen Polo Trendline 5dr (manual)
1.4-litre four-cylinder – 63kW-132Nm – 6.1L/100km – 1033kg – $16,990
Toyota Yaris ZR 3dr (manual)
1.5-litre four-cylinder – 80kW-141Nm – 5.8L/100km – 1045kg – from $18,990