The Riversimple Rasa was today revealed, after a teaser was shown earlier in the week. It's a completely unique two-seater powered solely by a sophisticated hydrogen fuel cell system.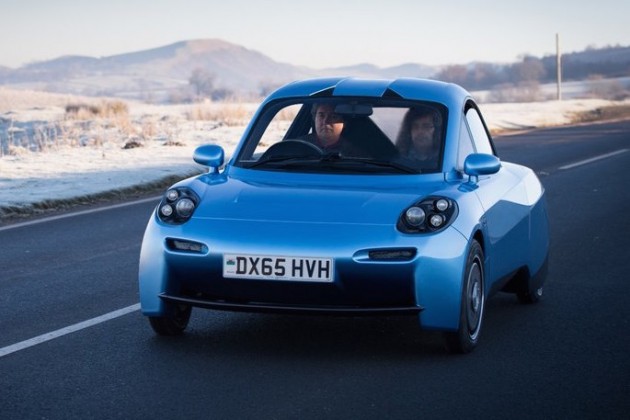 The Welsh company's 8.5kW hydrogen fuel-cell powered eco-car is set to hit production in 2018, thanks to a £2 million injection from the Welsh government.
The aerodynamic, skinny-tyred, compact contraption will be shown at the Geneva Motor Show next month. It weighs just 580kg, and is powered by a fuel cell powertrain which provides a 483km of range from just a 1.5kg tank. This grants it equivalent consumption of 0.9L/100km.
An initial beta test of 20 models will come before 2018, where it will join Toyota's Mirai, Hyundai's promised fuel cell SUV and Honda's FCX Clarity.
Like the similarly-shaped Volkswagen XL1, the Rasa utilises a carbon fibre monocoque and covered rear wheels, but its in-wheel electric motors are revolutionary and this would be the first production application of such technology. It also uses super-capacitors to send a quick energy burst to the electric motors.
The company is promising a very fun to drive car, with input from Formula 1 designer Chris Reitz. Hugo Spowers, founder of Riversimple Movement Ltd, said:
"We really have started from a clean sheet of paper. The Rasa gives us the opportunity to introduce customers to a more convenient concept of motoring, a lightness of ownership that neither places a burden on the pockets of motorists or the surrounding environment. The car is simple, light and fun in every respect."
Check out the video below to watch the company's 'Alpha' test.