This is the new 2015 Ford Focus ST. It comes with a facelifted design, vastly improved interior, new detailing and wheels, and it'll be available with a diesel engine in some markets for the very first time.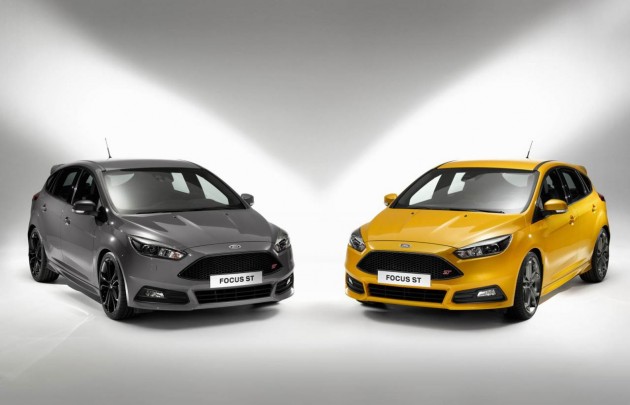 Starting with the diesel option, as this is perhaps the biggest news. It uses a 2.0-litre TDCi turbo-diesel four-cylinder producing 136kW of power and 400Nm of torque. It's able to cover 0-100km/h in 8.1 seconds, while using just 4.4L/100km on the combined cycle. The diesel is yet to be confirmed for the Aussie market.
As for the regular petrol model, it comes with the same 2.0-litre EcoBoost four-cylinder as the current model. Power remains at 184kW and torque output is at a strong 360Nm. It's able to sprint from 0-100km/h in 6.5 seconds, while using a respectable 6.8L/100km on the combined cycle.
In terms of styling updates, well, it gets all of the features addressed with the updated Focus. This includes a revised front end, slender headlights, and new fog light clusters down the bottom. The bumpers bars have also been changed front and rear, and some new alloy wheels have been fitted.
Taking a look inside you'll notice a fresh flat-bottom steering wheel, and less fussy centre fascia with a more conventional button layout. The current model has been criticised for its futuristic dash. There's also an updated touch-screen interface.
So, it might seem a mild facelift however Ford has retuned the suspension as well, with new front springs, sportier dampers front and rear, and a recalibrated electric steering system to provide better feel through the wheel. Raj Nair, Ford group vice president at global product development, spoke about the new model, saying,
"We are proud Ford has long enjoyed a reputation for producing performance hatchbacks with superb driving dynamics, and the new Focus ST further ups the ante. The engineering enhancements to the suspension and steering deliver greater responsiveness, agility and precision – all of which will reward the performance enthusiast with an exhilarating driving experience."
The 2015 Focus ST will be available in ST1, ST2 and ST3 trim levels (all market regions not confirmed). ST1 seats feature gray/charcoal/anthracite black fabric, while ST2 adds partial leather with base and side bolsters available in four colors – Tangerine Scream, Performance Blue, Smoke Storm or Race Red – and ST3 seats have a full charcoal black leather finish.