Renault has revealed the new EOLAB concept car ahead of its world debut at the Paris Motor Show next month. It showcases an aerodynamic design, advanced construction materials, and a fuel economy of just 1L/100km.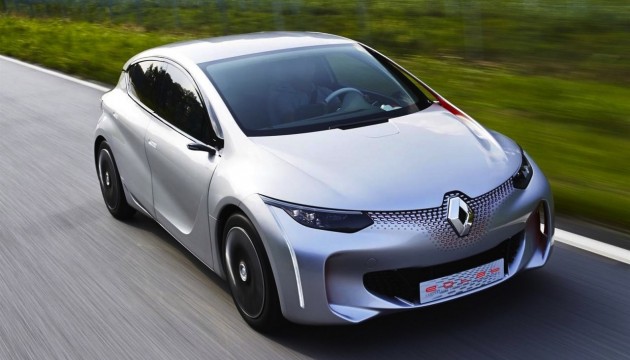 Yep, 1L/100km. It seems remarkable that such economy can be achieved. To help reach this feat the EOLAB is powered by a Z.E. hybrid powertrain comprising of a 1.0-litre three-cylinder petrol engine paired with a 6.7kWh electric motor system.
As for the outputs, the little 1.0-litre unit develops 57kW and 95Nm while the electric motor adds 50kW and 200Nm. There's no mention of 0-100km/h times, however, the concept does provide zero-emissions motoring for 60km at speeds up to 120km/h.
Aside from the intelligent drive system the EOLAB is also made using advanced construction materials. There's a magnesium roof, for example, that weighs just 4kg. The rest of the car is made from a blend of aluminium, steel and composite materials helping to save around 400kg over an equivalent Clio.
Other unique highlights include active aerodynamics with panels and spoilers that adjust automatically, an active ride height which also adjusts automatically depending on the conditions, LED headlights, ultra-thin windscreen glass, and an asymmetric three-door layout.
Even though the EOLAB won't hit production any time soon, a lot of the developments and technologies from it will eventually trickle down into Renault's road-going lineup. Renault says,
"Around 100 new, realistic technological developments designed to be introduced gradually on new production Renaults from now until 2020."
Stay tuned for plenty more coverage on this and many others at the Paris show, starting October 2.