Mitsubishi has unveiled the rather stunning eX concept SUV at the 2015 Tokyo Motor Show, which gives us some insight into an all-new SUV model coming in the near future.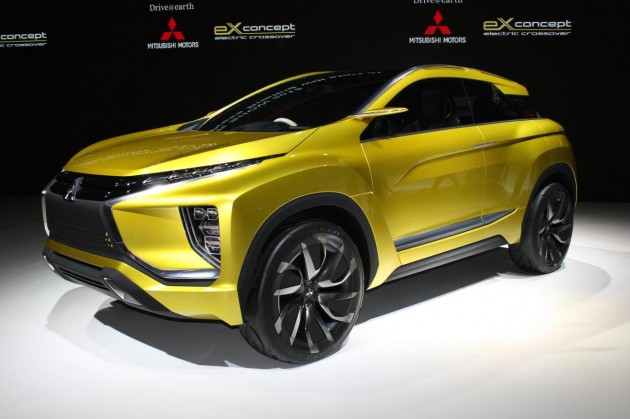 It's understood Mitsubishi is looking to slot another SUV model in between the ASX and the larger Outlander. The eX concept gives us a preview of what to expect in terms of design and, potentially, technology levels of the new vehicle.
Starting with the design, the eX features a modern take on the company's "dynamic shield" styling language, currently seen on the latest Outlander and upcoming Challenger. It also showcases a high waistline and low-profile glasshouse, along with slimline LED lighting and muscular wheel arches.
Of course, the eventual production version isn't likely to look exactly like this but it is expected to be heavily inspired by it. It is also set to be sized somewhere in between the ASX and Outlander.
The ASX is one of the last SUVs in the company's lineup to receive the dynamic shield design theme. However, the next-gen model will be revealed at the LA Auto Show next month, featuring such a layout. It's believed it could be a bit smaller than the current version to allow room for the production eX to come into place.
In terms of the powertrain of the eX, it uses two electric motors. Both produce 70kW, providing a 140kW all-wheel drive package. The system offers a range of about 400km from fully charged.
Specifications on the production version are yet to be confirmed, however, Mitsubishi is reportedly going to offer all of its future SUVs with either a fully electric system or a hybrid system, at least as an option.
A remarkable 50 per cent of all Mitsubishi passenger vehicles sold in the USA are SUVs. On a global scale the market segment is predicted to grow by around 20 per cent by 2020, so it comes as no surprise Mitsubishi is wanting to offer even more for the adventurous category.