Mazda revealed the new-look, second-generation CX-5 last week, showcasing a sporty new exterior and spruced up interior. But unfortunately for us performance car enthusiasts there is still no MPS-style performance variant.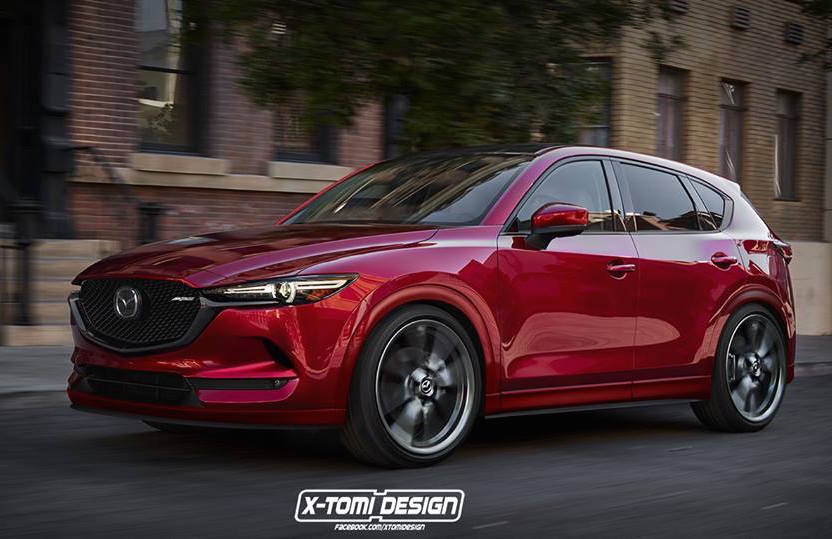 Digital artist X-Tomi Design has come up with a mock up of what such a variant could look like. And boy does it fit. Using the CX-5's sharp new design as a base, X-Tomi has turned up the heat by adding a neat bodykit complete with subtle side skirts.
There's also a dedicated chin spoiler at the front with a revised lower bumper bar to suit, and some slightly bolsters wheel arches that encompass, what appear to be, dark chrome 20-inch alloy wheels.
As for the propulsion? Well, since the idea of a CX-5 MPS only really exists in our imaginations, the unit that would most likely be used is the new 2.5-litre turbo-petrol four-cylinder seen in the latest CX-9.
In the CX-9 the engine produces 170kW and 420Nm, which, according to our stopwatch, is good enough for a 0-100km/h time of 7.69 seconds. In the lighter weight CX-5 we'd predict a time of around 6.5-7.0 seconds.
Along with the turbo engine Mazda could fit up some sports brakes and suspension, and give the interior a light makeover by installing some specially-stitched MPS seats and alloy pedals.
For now though we'll have to make do with the regular variants. This is a bit of a shame we think as an MPS-style variant would likely be very popular, especially since the CX-5 is currently the best-selling SUV in Australia. Mazda hasn't offered a performance MPS model since the old Mazda6 and Mazda3.