Porsche has inadvertently (or on purpose?) revealed the rear end of what appears to be the much-anticipated Porsche Cayman GT4. It's set to be the most stripped out, hardcore version yet.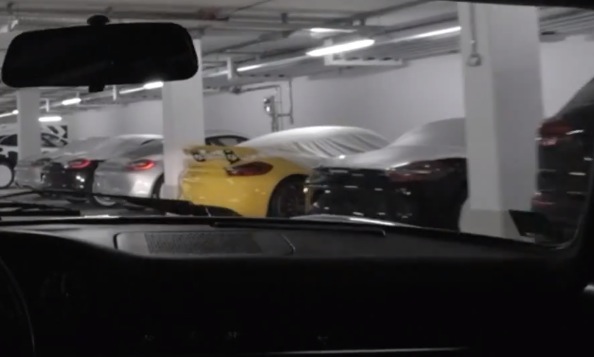 The rear end is seen in the clip below which showcases one of the company's latest restoration projects. Porsche often undertakes full overhauls on classic cars, and in this case it is one of the first 911s ever made; chassis number 7.
At around 0:11 seconds into the video you can just see a glimpse of the rear end of a special yellow Cayman. Judging by a few clues, such as the huge rear wing, we could be getting our first look at the Cayman GT4.
As far as we know Porsche is planning a hardcore version of the Cayman, which will sit at the top of the range and become a kind of junior 911 GT3. Power will reportedly come from a 3.8-litre naturally aspirated flat-six engine producing around 275kW. However, there has been rumours of a twin-turbo unit being in the works offering similar power.
You might remember late last year Porsche accidentally revealed, or we should say, confirmed that such a model is on the way on its US website. In the track driving experiences section of the website there was an option to select a car and one of them was a Cayman GT4.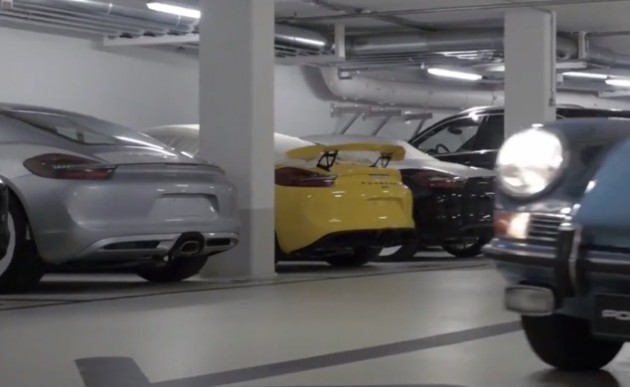 Aside from a decent bump up in power from the current, range-topping GTS (250kW), the GT4 is expected to come with various aero parts, a partially striped out interior, and serious brakes and suspension.
Click play below for a potential sneak peek. All could be unveiled at the 2015 Geneva Motor Show, starting March 3.