Lexus has been rather busy registering trademarks, prompting some to believe a new entry-level crossover could be in the works based on the new Toyota C-HR.
According to the IP Australia government website, Lexus has registered UX 200, UX 250 and UX 250h under class 12; automobiles and structural parts thereof. The fact the denominations following UX indicate smaller powertrains suggest it could be nameplate attached to a smaller vehicle as opposed to something like the rumoured seven-seat SUV.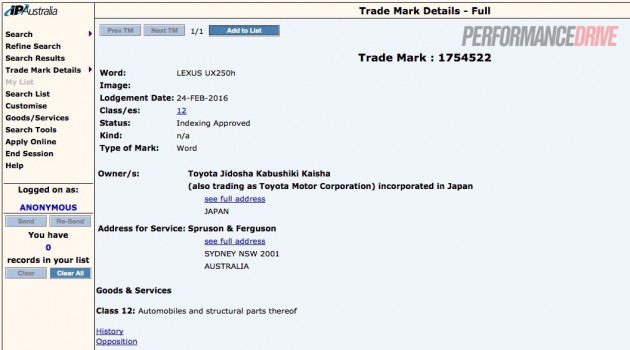 PerformanceDrive believes Lexus could be planning a new compact SUV to tackle the likes of the recently-debuting Audi Q2. Lexus already has the Toyota C-HR compact SUV (below) from which it can borrow major components and a platform from.
The abbreviation "UX" is usually industry shorthand for User Experience, which refers to the ergonomics and infotainment setups in a vehicle. Whether this means the Lexus UX will have an emphasis on those aspects remains to be seen, but we can't blame the company for wanting to compete in a segment which saw massive growth in Australia last year.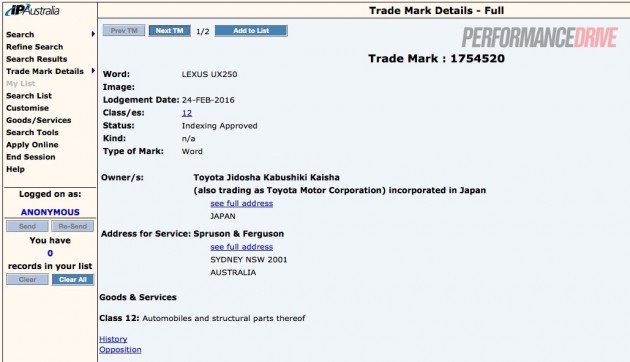 The smallest SUV the company offers it the Toyota RAV4-based NX. It comes in 200t and 300h form, competing against the likes of the Audi Q5, BMW X3, and Mercedes GLC, according to VFACTS. The most popular model for Lexus in Australia during all of 2015 was in fact the NX, even out-selling the IS sedan (2922 sales vs 2036), and the larger RX (1673 sales).
Of course, registering trademarks doesn't always mean there is a definite production car on the way. Lexus could simply be protecting the badge and stopping others from obtaining it.