Another prototype version of the 2017 Mazda CX-9 has been spotted, this time in the hills in Los Angeles, wearing a revealing body that is clearly larger than the current shape model.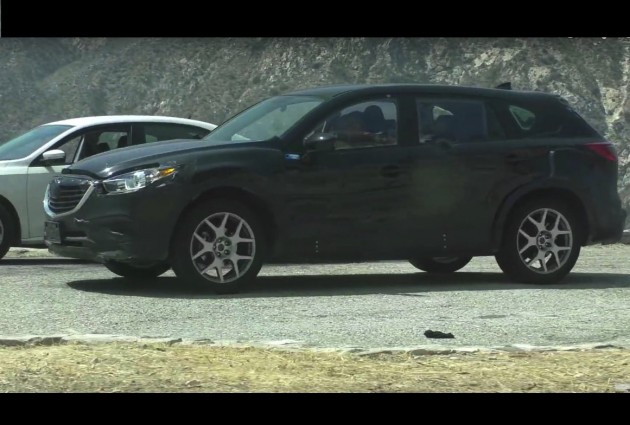 The prototype seems to look very similar to the current model and is probably wearing some panels from the existing version just for disguise purposes. However, if you take a look at the finer clues you'll see some big changes are on the way for the company's new large SUV.
There appears to be more defined wheel arches on this prototype, bulging outwards slightly for a more muscular and wider stance. There's also long rear doors which are set to open up to a larger cabin.
At the front the new CX-9 will wear the company's latest 'Kodo' design language face which is seen most prominently on the current CX-3.
This prototype seems to be wearing a lot of black sheeting and retrofitted parts in the front end to hide the look, but some might remember the prototype spotted in July which showcased a sharper look with a more pronounced upper grille and slim headlights.
No official specs have been revealed yet, but it is believed the 2017 CX-9 will come with a new 2.5-litre turbocharged petrol engine. This is set to replace the fuel-hungry 3.7-litre V6 in the current version. Power and torque outputs are likely to be similar.
Some reports suggest a full debut will take place later this year. Judging by the unfinished state of this prototype though we're bidding on a debut during the first half of 2016. We'll keep you updated in any case. Click play below for a preview.