Porsche Australia's partnership with the NSW Police Force is bringing out Australia's first ever Porsche 911 police car to the roads. The community partnership with the NSW Force is now in its third year.
The Porsche 911 is dressed in full blue and white police livery, with flashing lights on top. It's a design that was handpicked out of 60 competition entries made by students at university, TAFE and high schools throughout NSW.
Porsche has supplied a base model 911 Carrera for the job, which comes with a 3.4-litre flat-six engine producing 257kW of power and 390Nm of torque. It's able to accelerate from 0-100km/h in just 4.8 seconds, which means it could potentially catch fleeing criminals with no trouble.
Despite the potential, the Porsche 911 police car will not be used for general highway duties. Instead, it will be used to engage with the community and especially with younger generation motorists via community events and social media. NSW Police Force Superintendent Alan Sicard said,
"The Porsche police car is run and operated out of the NSW Police Force's Harbourside Local Area Command but shared with other Commands. The car is owned, operated and serviced by Porsche with the NSW Police responsible only for fuel and tollway costs.

"Although the 911 might make an ideal Police response car in some people's eyes, the true value of the sporty Carrera in police decals is that it will draw attention and curiosity with younger folk especially which is exactly what we aim to achieve."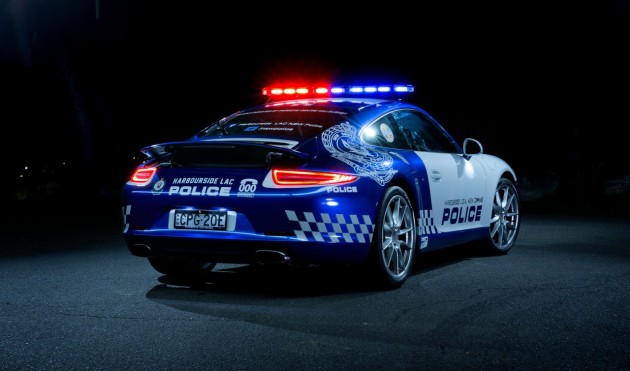 The 911 will replace the Panamera police car that is currently being used in NSW to engage with the community. Porsche says using these vehicles is a great way to help 'break the ice' with youths in disadvantaged areas.
We're not sure about you but we suddenly feel an urgency to join the police. Where do we sign?