Jaguar is apparently gunning for a Nurburgring lap record with its new XE SV Project 8 mid-size performance sedan, with reports of engineers recently tackling the circuit at full tilt.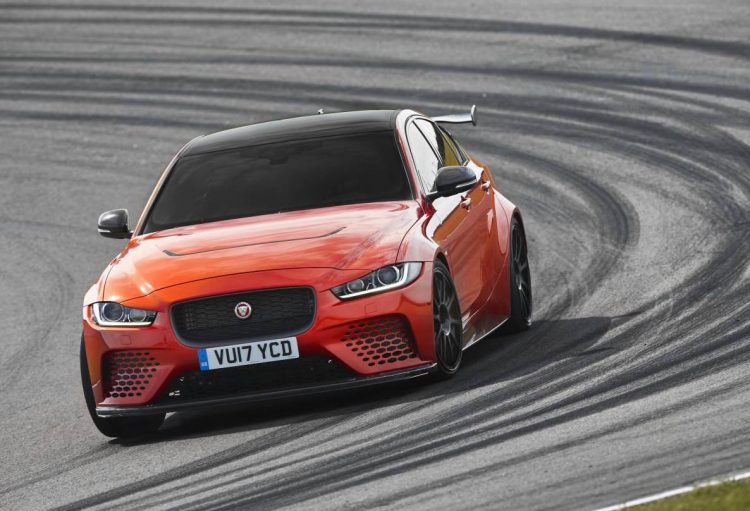 The record in question Jaguar might be looking to dethrone is the production sedan accolade, which is currently in the hands of the new Alfa Romeo Giulia QV. It set a blistering time of 7:32 around this time last year.
According to a number of reports, showing spy shots of the XE SV at the track, Jaguar is looking to take that record for a ride. And it certainly has the potential with the new Project 8. Although it is a limited edition production car with just 300 to be made, the V8 XE is still a production car and is thus accredited to attempt the record.
Under the bonnet is a 5.0-litre supercharged V8 that belts out 441kW and 700Nm, making it Jaguar's most powerful road car ever made. Interestingly, this is sent through an all-wheel drive system unlike the Alfa Romeo Giulia QV, which, coincidentally, competes in the same mid-size sedan market space.
Across the regular 0-100km/h sprint, Jaguar claims it's all over in just 3.7 seconds. This is a fraction quicker than the 375kW Alfa Romeo's 3.9-second sprint. Part of this is obviously down to the all-wheel drive grip of the Jag compared with the rear-drive Alfa.
Another area where the Jag might have the edge is with aerodynamics. The XE SV features a huge rear wing mounted on its own stilts, as well as a very low front splitter with aggressive intakes all through the lower end. All of this is able to provide over 120kg of downforce at speed. There's also some fattened rear wheel arches to support 305-wide tyres.
With the recent spottings we'd expect a formal announcement of some kind in the next few weeks, if the record ends up being surpassed that is. Stay tuned.