Lightweight sports car fans will remember Polaris is working on a new Slingshot three-wheeler. Well actually, we should say was working on it, because now it's all finished and ready to drive.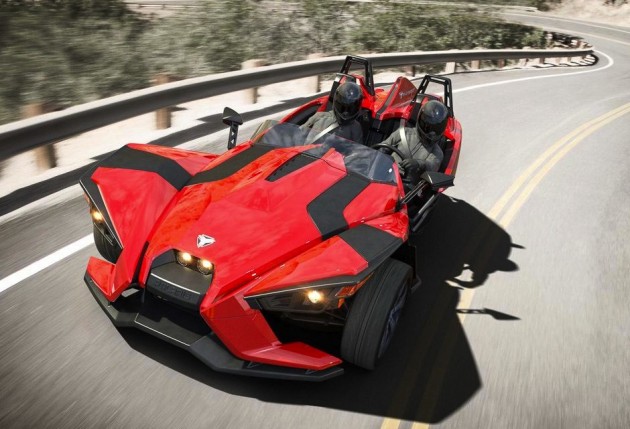 The Polaris Slingshot is Polaris's answer to vehicles like the KTM X-Bow and Morgan 3 Wheeler. It features a single rear wheel, which is also the driving wheel, and a set of distinct body panels with proper headlights and a small windscreen.
Power comes from a GM-derived 2.4-litre EcoTec four-cylinder engine producing 129kW at 6200rpm, and 225Nm at 4700rpm. Twist is sent through a five-speed manual transmission and into a rear-drive system via a carbon-reinforced drive belt.
Just taking a look at that peak torque figure you'll see this is an energetic, high-revving vehicle meant for swift drives in the countryside or hitting laps at a track.
Polaris hasn't mentioned 0-100km/h times, however, with a kerb weight of just 771kg, it does have the power-to-weight ratio of a sub-5.0-second serious sports car.
Highlights include a 20-inch rear wheel with 18-inch front wheels, LED taillights, roll-over bars, a reverse-hinge bonnet, waterproof seats, forged aluminium suspension components, and even a 4.3-inch touch-screen interface for the occupants inside with a reversing camera.
Polaris is launching the new model from US$19,990 in the US. It's unclear if it will be made in right-hand drive and for the Australian market.