Peugeot has released a teaser image of what is likely to be the all-new Peugeot 208 GTI. The image shows a distinctively sporty dual exhaust outlet tip, featuring red insides.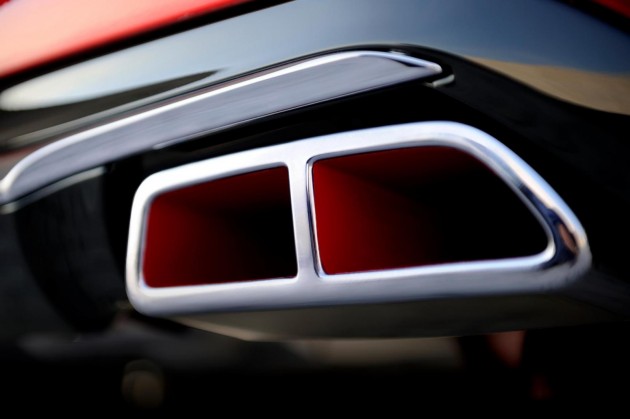 Peugeot is yet to officially announce what its sporty new Peugeot 208 variant will be named, it is believed it will be a new GTI. Previous reports have revealed that Peugeot is looking to rekindle the spirit of the old Peugeot 205 GTI with this new model, offering supreme lightweight and agile handling characteristics.
As far as we know, the Peugeot 208 GTI is set to come with the same PSA 1.6-litre turbocharged four-cylinder engine as seen in the MINI Cooper S. In that, it produces 135kW of power and 240Nm of torque. A slightly different tune could be possible.
Judging by this sole teaser image, the new Peugeot 208 sports variant will feature modern styling cues, and feature a blackened rear diffuser section encapsulating the exhaust outlet. A number of brushed aluminium trimmings may don the hot hatch, matching this exhaust.
Like the 205 GTI, the new model is expected to come with a sporty interior compared with the normal 208 variants, with bucket-style seats, multi-tone highlights, and potentially a sports steering wheel, pedals, and gear shift knob.
Underneath, the new GTI is also set to come with sports suspension and brakes.
All is set to be revealed at the 2012 Geneva Motor Show, starting March 6. We can't wait to see what Peugeot has in mind for the hot hatch. Stay tuned.