The BMW M3 has been regarded as perhaps the benchmark in high-performance sedan-based vehicles for the past 25 years. Today we take a look at one of the favourite's in the M3 history, the E36 BMW M3 3.2, and include a quick review.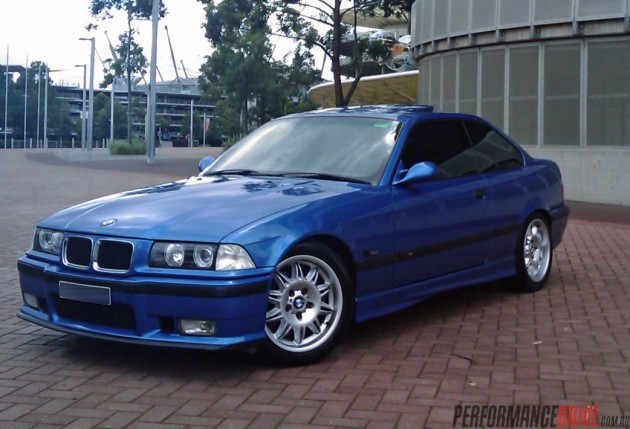 BMW M started producing the E36 M3 from the BMW 3 Series E36 chassis in 1992. It featured a 3.0-litre straight six engine developing 210kW of power and 310Nm of torque. Various forms of the E36 M3 won the famous 24 Hour Nurburgring endurance race outright in 1994, 1996 and 1997, proving itself as not just a robust and very worthy long-term sports car, but also a highly competitive package for the track with plenty of tuning potential.
When the second-generation was launched in 1996, it brought with it a series of new technologies that were very advanced at the time. The engine, which was expanded to 3.2 litres, featured double VANOS (BMW's variable valve timing) on both inlet and outlet cams; a new six-speed manual (as opposed to the five-speed in the pre-1996 models) and an optional sequential SMG transmission; and a specific power output of 73.75kW/litre from the 236kW and 350Nm on hand – also quite a feat for a naturally aspirated engine at the time.
BMW enthusiasts around the world have regarded the E36 as the best compromise out of all BMW M3 versions. The first reason being that you can pick one up these days for around $22,000. Another reason is that it's light in weight (1490kg) compared with newer models.
The main reason though is down to the 3.2-litre straight-six engine – an engine which picked up the International Engine of the Year award in 2001, and Best Engine between 3.0 and 4.0 litres in 2001, 2002, 2003, 2004, 2005, and 2006 – and the excellent steering and handling the car offers.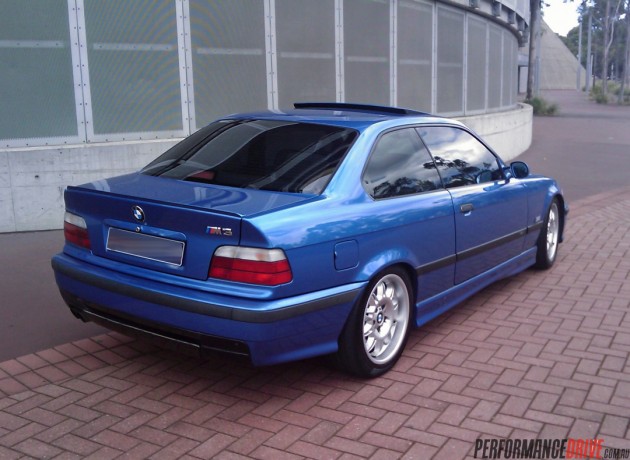 We can't comment on the E46 version but we can compare it to the latest model, the E92 (Coupe) BMW M3, which features a 4.0-litre V8. Straight away, the E36 feels more organic, more analogue as though you are directly connected to the wheels. The current model also feels much heavier (weighing from 1600kg), and while the engine is simply superb, it can't quite match the blissful sing of the inline six in the E36.
In terms of acceleration, the E36 can be quicker than the current model as well (PD confirms a quarter-mile time of 13.3 seconds as tested [in manual form, equipped with a sports exhaust], while an E92 coupe does it in around 13.5 seconds). Of course, the BMW E36 M3 can't match the current model's much higher quality interior and in-car features and equipment.
With a set of performance springs and shocks though, as featured on the example we drove, the E36 BMW M3 is a cracker in the corners. There is zero understeer. No matter how hard you try. If you just keep pressing on in a bend, the rear end will eventually step out in a very predictable and easy to control slide before any understeer is presented.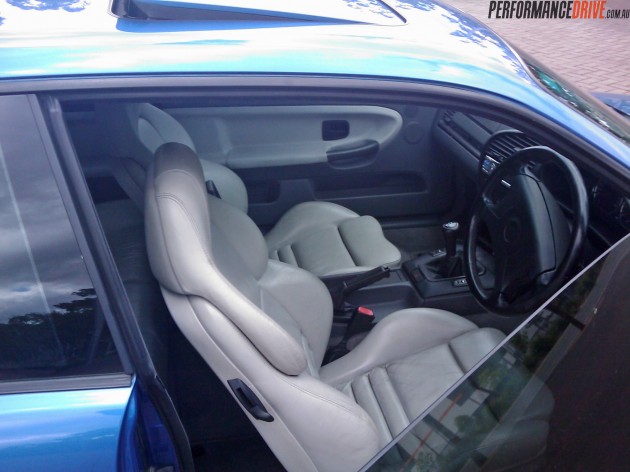 As with almost all BMWs, the steering is pretty much faultless in the BMW E36 M3. The initial turn-in is sharp without being twitchy or nervous, while mid-corner bumps and undulations hardly bother the car, providing a very composed nature. Inside, bolstered sports seats hug you in, and allow for a low and 'sit in' rather than 'sit on' driving feel.
If tuning is your thing, there are many avenues to go with the E36 M3. From turbocharging and centrifugal supercharging for high-horsepower, to extreme suspension and handling kits for excellent track-day and circuit racing performance, there's loads of potential. It just depends what sort of driving style you're after.
We found various second-hand examples around, with prices ranging from $18,000 for a relatively high-kilometre version, or around $26,000 for a very decent example.
PerformanceDrive spoke to a BMW tuning specialist in Sydney for some handy tips. The specialist said the only thing to look out for on these models is a cracked rear bulkhead – which can be prevented with the use of a tower strut brace – and a weak clutch feel – preventable via the installation of a braided clutch line replacing the factory rubber item. Also, worn interior trimmings and fittings can present a bit of a costly problem if there is excessive wear.
Apart from these elements, the specialist says the engine is capable of covering 350,000km with ease so long as tender love and care is administered. The best part is, the factory fuel consumption rating of around 6.6-12L/100km can be achieved with a healthy engine.
1996 BMW M3:
Price when new – $131,750
Price now – $18,000-$30,000
Kerb weight – 1490kg
Engine – BMW M S50B32 3.2-litre naturally aspirated straight-six
Transmission – Getrag six-speed manual and six-speed SMG sequential, limited-slip differential 3.23 final drive ratio
Power – 236kW @ 7400rpm
Torque – 350Nm @ 3250rpm
Wheel base – 2710mm
Length – 4433mm
Width – 1710mm
Height – 1335mm
Track front – 1422mm
Track rear – 1438mm
Engine size – 3201cc
Compression ratio – 11.3:1
Wheels – F: 17 x 7.5 R: 17 x 8.5
Tyres – F 225 R: 245
Top Speed – limited 250km/h (155mph)
0-100km/h – 5.2 seconds
Standing 400m – 13.7 seconds (13.3 as tested)
PROS
Superb handling, sweet six-cylinder power, fuel efficiency (7.6-9.2L/100km as tested), understated looks
CONS
Interior fit and finish, understated looks
Past Blast rating: 9/10
If you own a performance ride you think would be perfect for a Past Blast feature, feel free to email us at info@performancedrive.com.au