This is the 2021 Mazda BT-50, which has just been unveiled today. As previewed last week, this is a major model change, switching from a Ford Ranger platform and powertrain to the upcoming Isuzu D-Max platform and powertrain.
Firstly, the design. It looks good in our opinion. Very modern and in line with the current Mazda theme. A giant chrome-trimmed grille at the front seems to merge nicely with the new chassis, and it looks like the approach angle might be improved over the current model which features quite a low front lip, at least on some of the upper variants.
The main torso looks fairly generic and follows the modern dual-cab ute archetype. Around at the back are some new-look taillights which do look similar to those on the 2021 D-Max. According to the specs the new dual-cab 4×4 model is 5280mm long, 1870mm wide, and 1790mm tall. That makes it 85mm shorter (length-wise), 20mm wider, and 31mm lower (roof height) than the current GT dual-cab 4×4 model. The new 3125mm wheelbase is also 95mm shorter, which could have a noticeable impact on cabin space.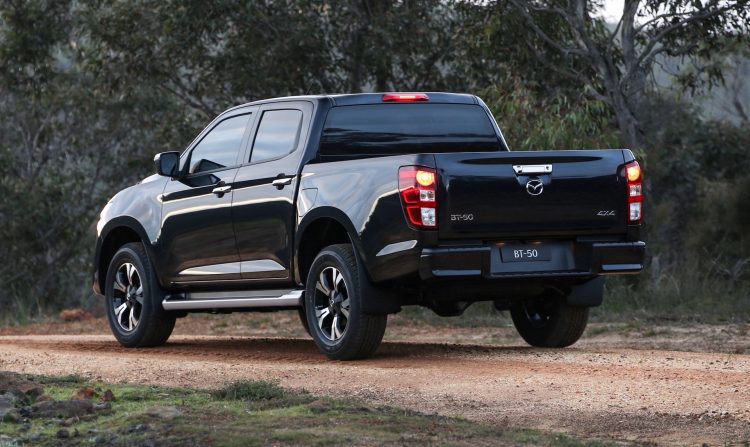 In terms of capacities the 2021 BT-50 offers a payload of up to 1065kg, down from the current GT's 1082kg rating, while the braking towing capacity remains at 3500kg. Specifications regarding ground clearance and approach and departure angles are yet to be outlined.
Under the bonnet Mazda is employing Isuzu's new 3.0-litre turbo-diesel four-cylinder engine. It confirms the unit, for the BT-50, produces 140kW at 3600rpm and 450Nm between 1600-2600rpm. Compared with the outgoing Ford-based 3.2-litre turbo-diesel five-cylinder, which develops 147kW (at 3000rpm) and 470Nm (1750-2500rpm), outputs are down but the new unit offers slightly better flexibility, with peak torque spread wider across the rev range.
The new model is expected to be a bit lighter in weight than the current model thanks to the latest Isuzu platform. Even if you compare the current D-Max to the current BT-50, in equivalent trim level, the D-Max is around 100-150kg lighter. This should help to provide improvements in economy and will probably at least even up the performance with the reduced outputs compared with the outgoing 3.2. Official fuel economy and performance figures haven't been mentioned.
Taking a look inside, the 2021 Mazda BT-50 showcases a fresh 9.0-inch touch-screen media interface incorporating the latest tech, such as Android Auto and Apple CarPlay. There's also a completely new dash theme, lots of premium touches, available dual-zone climate control on a new module, and a fresh instrument cluster that features a 4.2-inch digital display.
Mazda Australia says the new model will go on sale locally during the "later half" of 2020. Full prices, trim levels, and standard features will be announced closer to launch.