European GM brand Opel is planning to unveil an updated version of the Mokka crossover at the Geneva Motor Show next month, called the Mokka X.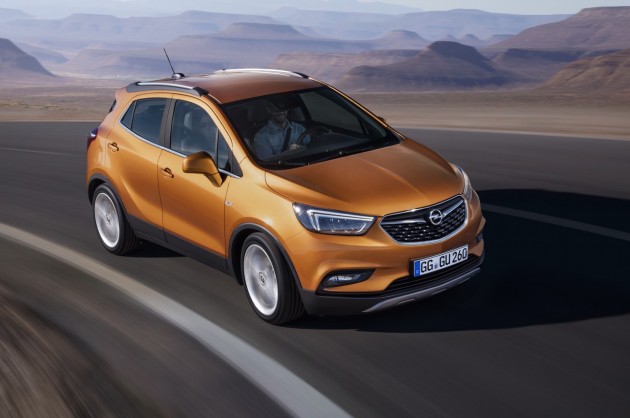 The Opel Mokka is based on GM's Gamma II platform and is very similar to the Holden Trax sold in Australia. For the new Mokka 'X' though, Opel has given the compact crossover a design facelift incorporating the brand's latest front grille theme.
It's easy to pick out Opel's latest design language, evident by the LED-infused headlights and oval and slightly drooping front grille. The lower portion of the front end is also revised and now includes sportier fog light clusters and multi-tone trimming.
In the engine compartment Opel has worked in a 1.4-litre turbocharged petrol four-cylinder that produces 112kW. The unit is taken from the new Astra and is equipped with a six-speed auto and fuel-saving stop-start technology. A turbo-diesel 1.6 will also be offered, producing up to 110kW.
Inside, the Mokka X features an updated dash layout that falls in line with GM's latest theme, also inspired by the Astra. Customers will be offered a choice of 7.0- and 8.0-inch touch-screen systems, depending on the variant, while the main fascia is now clutter-free with a cleaner and freer-flowing assortment of controls.
Opel is introducing a few new technologies for the small SUV as well, including its Opel Eye front camera system, along with updated traffic sign recognition functionality. The Mokka X will also be available with forward collision avoidance and lane departure alert as an option.
While the Holden Trax is likely to continue on sale here in Australia as is at least until local manufacturing closes down next year, it's unknown at this stage if Holden will stick with the current Chevrolet/South Korean-made arrangement or go with the slightly more premium Opel/European-made option in the years to come.