You've probably heard the expression 'going for a quick nine' down at the golf course. This brings an all-new meaning to such an expression. It's the quickest golf cart in the world and it has just broken its own Guinness World Record.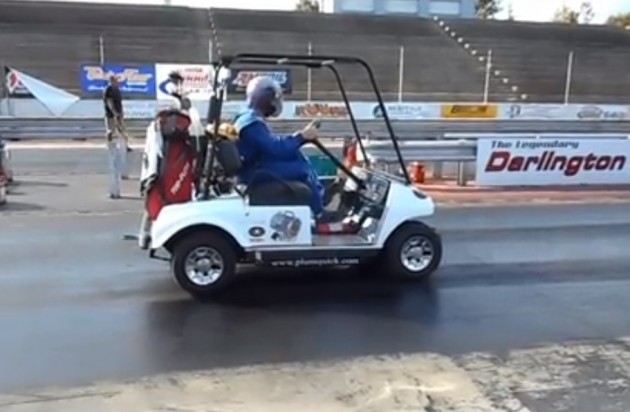 Now, almost all golf carts that we've ever encountered are electric. Remarkably, this example, by Plum Quick Motors, has broken the world record for being the quickest golf cart in the world and it's also electric.
The cart is apparently about 90 per cent standard. Judging by the looks alone, that seems pretty accurate. There's the usual white body and thin roll-over bars, small wheels, and even a set of golf sticks in the back.
Where things are likely to be changed is underneath the body. Specific details are unknown, however, the modified cart probably uses a similar electric motor system only with much more powerful batteries and possibility uprated motors to handling the extra juice.
As a result, the cart has run an astonishing quarter mile time of just 12.2 seconds at 191km/h. This easily beats the previous speed record of 166km/h set by the same company. Take a look below. We're not sure we'd be game enough to trust it at 190km/h. Would you?