Nissan has got together with inventor Hamish Scott and produced a special type of paint, which glows in the dark.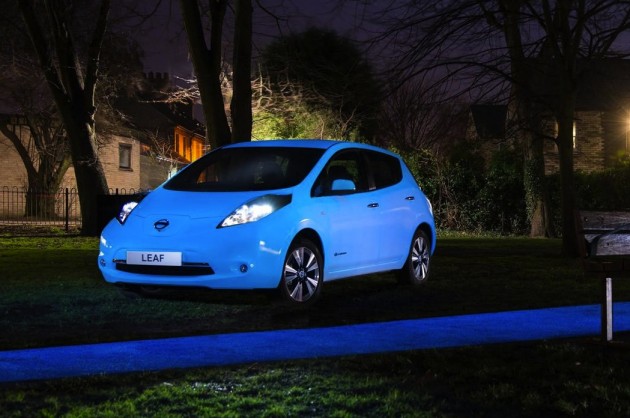 A Nissan LEAF was the lucky recipient of what Nissan describes as an ultra-violet energised paint, which is capable of glowing for between eight and ten hours.
Nissan says a key ingredient for the creation is a rare earth product known as "Strontium Aluminate". The end result being a paint that contains only organic materials. Better yet, the paint is odorless, biologically and chemically inert.
Unfortunately there are no plans to bring this into production, but Nissan says that if the paint were to be produced, it would last up to 25 years. That's a massive leap from the current range of glowing paints and wraps that last nowhere near as long.
Aside from the obvious safety benefits driving at night, the world-first creation (for a manufacturer) has been made as a marketing tool in an effort to spread awareness and benefits of converting to solar power at home. Nissan explains,
"Research revealed recently by Nissan showed that 89 per cent of LEAF owners charge their cars at home overnight. Although solar panels do not store energy or provide it outside of daylight, any leftover power generated during the day is fed back into the national grid and homeowners can get a Government payment for it, meaning that the overnight charge is already paid for."
Although there is environmental benefits of the special paint, we think it could be a pretty cool aftermarket enhancement too. What do you think? Would you like a glow-in-the-dark car? Check out the video below for more.
http://youtu.be/nKj2sEpg1xg