Lotus unveiled the new Lotus Exige R-GT rally car at the 2011 Frankfurt Motor Show in Germany. The company has just released a video showcase explaining the new car.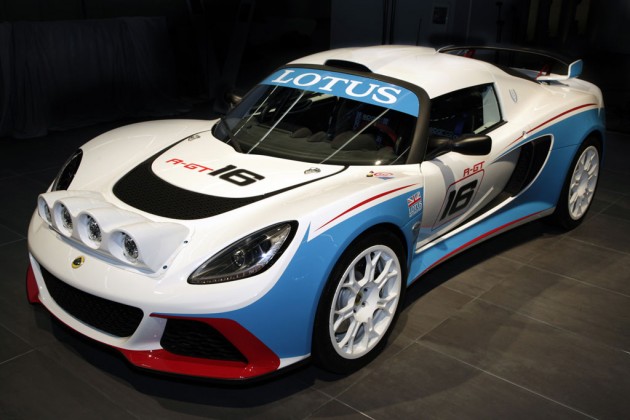 The Lotus Exige R-GT video below goes into some detail about the history of Lotus and its presence in the international rally scene. The new Lotus Exige R-GT rally car will rekindle some of that rally spirit when it goes into competition next year in a new class of the WRC called the R-GT series. Lotus CEO Dany Bahar speaks about rally racing and how important it is to Lotus, saying that for rally,
"It's all about the car's performance. It's all about the car's ride and handling, and it actually reflects perfectly the road cars we are building because they are all about ride and handling."
The Lotus Exige R-GT features the same 3.5-litre V6 Toyota engine as the production model, outputting 225kW. The rally R-GT version is equipped with a 34mm air restricted intake to keep within FIA rules, and also features Lexan windows, an air scoop in the roof, a comprehensive roll cage. All up the package weighs in at 1200kg.
Lotus last took part in world rally in 1981. It will be a very interesting return to the sport for the British sports car maker.
Also check out:
– Lotus Exige S with 3.5 supercharged V6 unvieled at Frankfurt show