Nissan is getting ready to unveil the next-gen 2020 Nissan Juke, and has sent out a teaser image to build anticipation. This will be the first major update for the small SUV since it first arrived in 2010.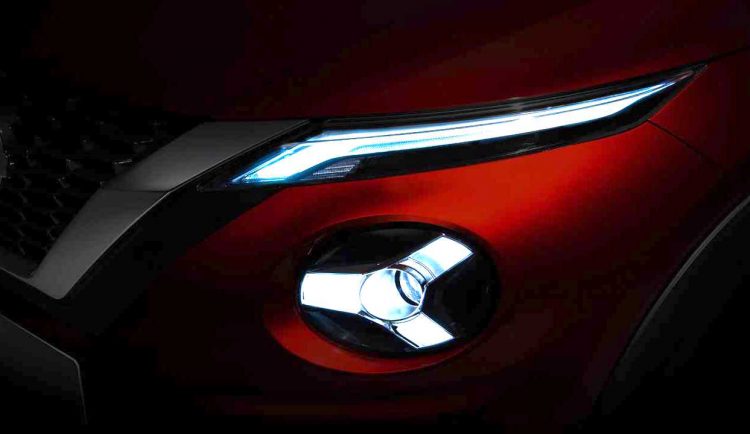 The current Nissan Juke has been one of Nissan's most popular vehicles in Europe. It rides on the Nissan B platform, which is shared with the Micra and previous Renault Captur. It's offered in both front- and all-wheel drive forms. For the next model Nissan is set to apply some major changes to the design and foundations.
Firstly, the next-gen model is set to switch to the newer Renault-Nissan CMF-B platform, which debuted with the latest Renault Clio and Captur. With this we'd expect improved interior packaging and space efficiency, as well as an enhanced driving feel and comfort – the current model is known for being quite solid and even overly firm on the road, as well as showcasing a tight interior.
As we can see by this teaser image (we've turned up the exposure, hence the slightly grainy quality), Nissan is applying a fairly different design to the flamboyant SUV. It looks like the headlights will switch from the current beady items to a unique three-pointed star-like design. Above these is an 'eyebrow' of LEDs for the daytime running lights. This split design is similar to what we see on the Hyundai Kona.
We don't know much about the powertrains at this stage, but we can probably turn to the new Renault Clio for some indication. There's a potential for a 1.0- and 1.3-litre turbo-petrol, as well as a 1.5 turbo-diesel dCi. Some speculations also suggest a hybrid might be offered, at least in some markets.
A full debut for the 2020 Nissan Juke will take place on September 3. Nissan Australia hasn't made any official announcements in regards to potential local timing or specs just yet.