It was only last week we reported that the NSW Police Force had added a Porsche 911 Carrera to its fleet. Well, we're here to inform you they've decided to add another car, except this one joins their fleet of brightly-coloured highway patrol cars. Say hello to the NSW Police Force's new FPV GT F – the most powerful Falcon GT ever released.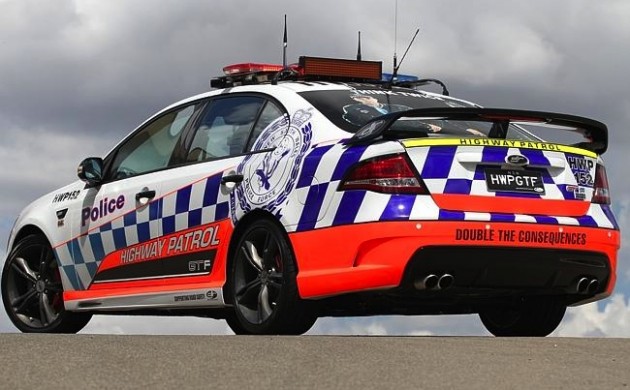 The standard FPV GT F features a supercharged 5.0-litre V8 that produces 351kW and 570Nm. The NSW Police Force FPV GT F has been tuned by Aussie racing legend Dick Johnson's DJR crew to punch out, wait for it, a mind-melting 600kW – 249kW more grunt than factory.
The FPV GT F is the last ever Falcon GT to ever be made, with just 500 units rolling off the production line. It's not yet been reported what build number the 600kW GT F highway patrol car is.
The GT F highway patrol car will today be unveiled to kick off this weekend's double demerits safety campaign; if there was ever a car you're likely to get pinned in on a double demerits weekend, a 600kW supercharged V8 Falcon would be have to be right up there. The GT F is likely to make its first public appearance at this month's V8 Supercar Bathurst 1000.
Don't expect this bad boy to be chasing any criminals any time soon, though. Much like the Porsche 911, this stupendously-powerful GT is likely to be nothing more than a tax-payer funded interest piece to help bridge a connection between the NSW police and the community.
This FPV GT F isn't the first special model the NSW Police Force have welcomed; in 2012 they took delivery of a 400kW FPV GT RSPEC, and in 2013 a Gen-F HSV GTS tuned to make close to 500kW. In 2011 QLD police introduced four HSV ClubSport R8 SV-R (Special Vehicle Response) vehicles that also boasted power increases.
What do you think of the NSW highway patrol's 600kW FPV GT F? Is it sending the right message? Is it overkill? Tell us in the comments section below.