That's right, according to international word, the famed Honda Civic Type R, a car regarded for its 'NA' naturally aspirated power, could be about to turn to turbocharging. This will help boost performance and reduce emissions and fuel consumption.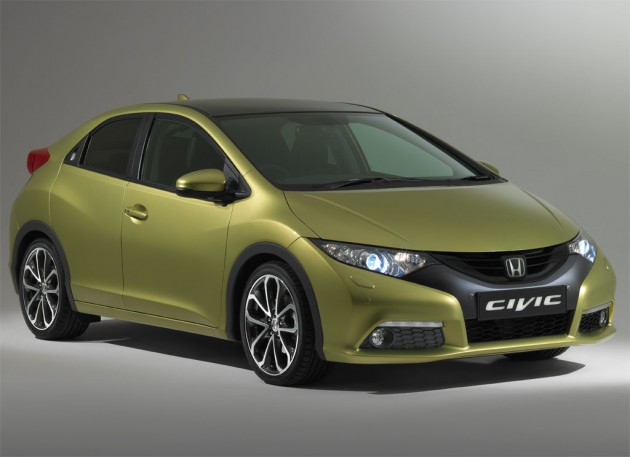 (Non-Type R 2012 Honda Civic hatch pictured)
As much as we all love the high-revving nature of the NA engine, other forces, such as environmental restrictions, are making it very hard for car makers to keep producing high-powered NA units. Lots of manufacturers are now turning to the turbocharger as it helps to produce healthy horsepower, without working engines very hard. The turbo is also known to reduce noise and emissions.
According to an Auto Express report, the new Honda Civic Type R will feature a 2.0-litre turbocharged four-cylinder engine developing 157kW of power. Although this is only around 10kW more than the current NA Civic Type R, the torque figure, currently unknown, is expected to be much higher than the current version.
Performance of the new Honda Civic Type R model has already been speculated, with 0-100km/h predicted to come up in around 6.5 seconds and a top speed of around 241km/h. This will put it nicely against rivals such as the Volkswagen Golf GTI which also comes with a 2.0-litre turbocharged four-cylinder, producing 155kW.
Like the current Honda Civic Type R, the new version will also come with an array of performance revisions over the standard variants, including sports suspension, chassis tightening and a sharper steering system. Inside, the Civic Type R will feature sports seats and a number of sporty trimmings.
The new Honda Civic Type R is expected to go on sale, in Europe at least, some time in 2013 with prices starting at around £23,000 (approximately AU$36,889 less taxes etc.). We'll keep you updated with official specifications and an Australian launch date as soon as we can.
What do you think of Honda turning to turbo with the new model? Will it ruin or enhance Type R performance and reputation?