As previously thought Ford is working on a new Ford Focus RS, ready to supersede the hot hatch of 2010. The new model is set to come with at least 320hp (238kW), and in five-door form only.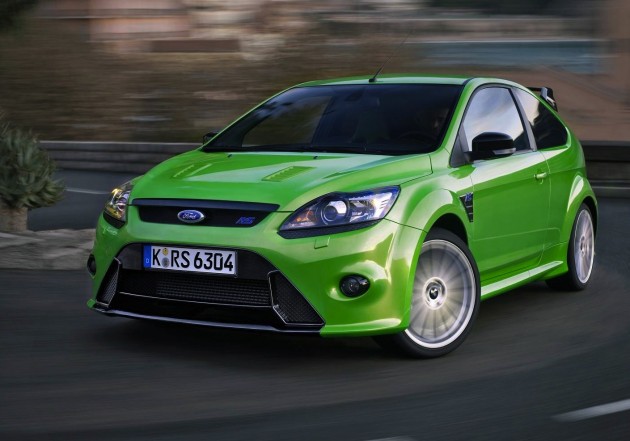 The new model is set to feature a new 2.3-litre four-cylinder turbocharged engine, dropping the 2.5-litre Volvo five-cylinder donk. An insider at Ford revealed to Top Gear recently that Ford won't be keeping the five-cylinder arrangement due to its poor fuel economy.
Instead, the new 2.3-litre, which could find its way into an entry-level Ford Mustang down the track, will feature advanced technologies such as direct injection and balance shafts to maintain reasonable economy.
Power will be sent through to the front wheels like the predecessor, as Ford has apparently said that an all-wheel drive system won't fit under the low sports car profile, not without increasing costs considerably. The last model was on sale in Australia priced from $60,000.
Despite Ford saying an all-wheel drive layout will cost too much, we must remember Ford has the new Kuga – which has just arrived in Australia – based on the second-generation Focus. So the technology is already there. But we also can't help but think of the Eighties and Nineties when Ford had a string of all-wheel drive RS vehicles, such as the Sierra and Escort. What happened to that rally pedigree?
There's no point in complaining too much though, the new Ford Focus RS will get a revised version of the acclaimed RevoKnuckle front suspension system to put the power down through to the ground.
As for an expected release date, it's still quite a while off yet, but we'd suggest have your pennies saved by around mid-2014.