There's a certain rumour circulating, a terrible one at that, that Ford will close its business in Australia from 2016. This would include shutting down its manufacturing facilities in Broadmeadows and Geelong.
(Scroll lower down for official announcement details.)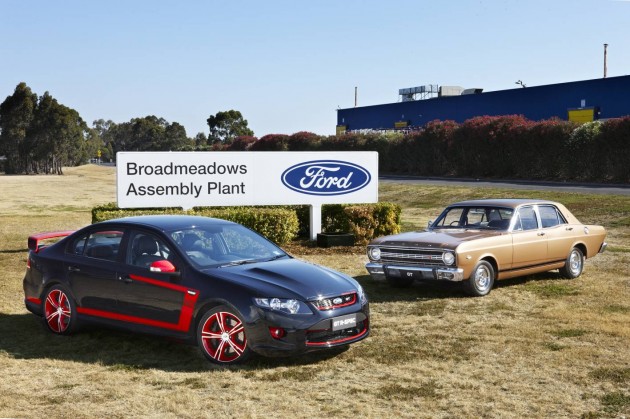 The rumour has stemmed from various reports, which say an official announcement from Ford Australia is imminent. Ford will be hosting a press conference, said to be around 10:45 this morning, about its financial results. Many believe Ford will reveal the shocking news.
Although the Ford brand is set to continue on as an import-only brand, like many other vehicle brands in Australia, the production of the humble Ford Falcon and Territory could be over by 2016.
A closure would mean around 2500 employees could be cut from the industry.
It is yet to be confirmed, however, sales of the Australian-made Falcon have been declining significantly over the past few years. Even throughout this year; February (868), March (831), April (717).
The company has been cutting jobs as a result of the dwindling sales over the past couple of years. It's believed sales are now to the point where a complete closure is the only option.
Many Ford fans around the country will be very sad if the Falcon ends up being killed off.
Holden managing director Mike Devereaux told PerformanceDrive earlier this year at a product launch that the Ford Falcon is important not only to the Australian economy, but also to Holden. The Falcon provides rivalry and competition in the market, and if there is none, Holden could be affected too.
We'll keep this story updated throughout the day. Please stand by.
UPDATE: It's official, Ford Australia will cease manufacturing in October, 2016. The brand will maintain presence in the market with international products. Ford released a statement saying,
"To better position the company to compete in a highly fragmented and competitive market, Ford will cease local manufacturing in October 2016.

"Ford will proceed with plans to launch updated versions of the Falcon, Falcon Ute and Territory in 2014, as well as offering other world-class products, such as the Ford Kuga, Ranger and Focus.

"The company will also strengthen its product lineup even further with a 30 per cent increase in the number of new vehicles offered to Australian customers by 2016."
Although the Falcon and Territory will be gone, part of the lineup expansions could see large cars like the Ford Mustang being brought over to Australia. Market availability for vehicles like the Kuga, Focus, Mondeo, and Fiesta is set to continue.
Perhaps the saddest part of the news comes to how it will change the industry and the local jobs it affects. Ford says around 1200 jobs will be made redundant in 2016. This is due to the company reporting losses over the last five years which have accumulated to around $600 million. Bob Graziano, president and CEO of Ford Australia, said,
"All of us at Ford remain committed to our long history of serving Australian customers with the very best vehicles that deliver cutting edge technology at an affordable cost. Unfortunately, due to challenging market conditions we are unable to do that longer-term while continuing to manufacture locally.

"We know this announcement is very difficult, especially for our employees. Providing support to those in our team whose roles will be affected is a key priority for us during this three-year transition period."