Tesla has been spotted again testing a prototype version of the highly anticipated Tesla Model X fully electric SUV. This time a prototype was spotted driving around Palo Alto in California.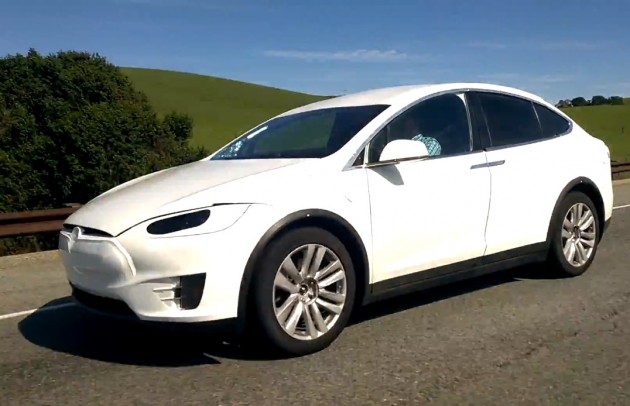 Following in the footsteps of the Model S, the Model X will come with a similar electric powertrain. All versions are expected to come with all-wheel drive, which means it'll use the dual-motor system also offered in the Model S.
In the Model S, the dual-motor system is applied to the P85D which is the highest variant in the sedan lineup. It also happens to be the fastest-accelerating production sedan in the world. Thanks to its 515kW output, the P85D can cover 0-100km/h in just 3.4 seconds.
This 515kW powertrain will be used in the Model X although output will be adjusted to 508kW. It is expected to be one of the fastest accelerating SUVs in the world. If this is too fast, a 280kW version is set to kick off the range.
Like the Model S, the Model X will likely come with a huge touch-screen interface that functions like a complete personal computer with internet connectivity. The Model X is also set to come with advanced technologies such as an (at least partial) automated driving system.
As for the design, the prototype in the video below is wearing minimal camouflage/cladding and you can quite clearly see it will showcase a similar design as the Model X concept. The falcon-wing rear doors will be carried across for the production version, providing a nice opening for accessing the third row seats.
Tesla could be planning to unveil the new SUV in the very near future given this prototype looks close to ready for production. The company is yet to confirm an official debut. We'll keep you updated as soon as we hear more.