The new lightweight, stripped back Ferrari is on the horizon, based on the 488 GTB, with the company releasing a teaser video to stir some anticipation.
A name for the new version hasn't been confirmed as yet, but some rumours suggest it might adopt the GTO badge. However, GTO is usually reserved for very unique models and has only been applied to three Ferraris in history (250, 288, 599). Other potential names could be Challenge, Stradale, and Speciale.
In the teaser video, posted up on Facebook, Ferrari gives us a glimpse of the body. It confirms a set of racing stripes over the centre of the bonnet and roof, while the front and rear look set to receive some decent aero enhancements. An image has since surfaced on Instagram showing the body in full, albeit via a poorly-focused and likely secretly-taken photo.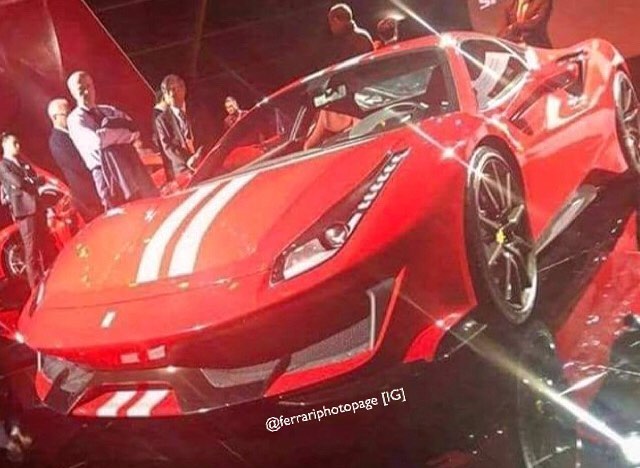 According to reports the aerodynamics for the special edition have apparently been improved by 20 per cent compared with the regular 488. We can expect improved handling and track performance as a result thanks to increased downforce at speed.
As for the engine. In the back the 3.9-litre twin-turbo V8 is expected to be tuned and tweaked to produce up to 700PS (522kW), up from the GTB's 492kW output. This should help to increase the top speed to well above 300km/h, while the 0-100km/h time could drop from 3.0 seconds to around 2.8.
Also helping with performance these sorts of Ferraris are usually put on a diet, with some luxuries and creature comforts removed to help shed weight. There's speak of around 100-150kg being chopped from the 488 GTB's tare weight of 1446kg.
Given the car looks ready for production in the video, we'd anticipate a full reveal at the Geneva motor show in March as previously reported. Check out the teaser below in the meantime.