As the day count on the Shanghai auto show rises, so too does the number of compact SUV debuts. Here's the latest entry from new-kids-on-the-block, Venucia.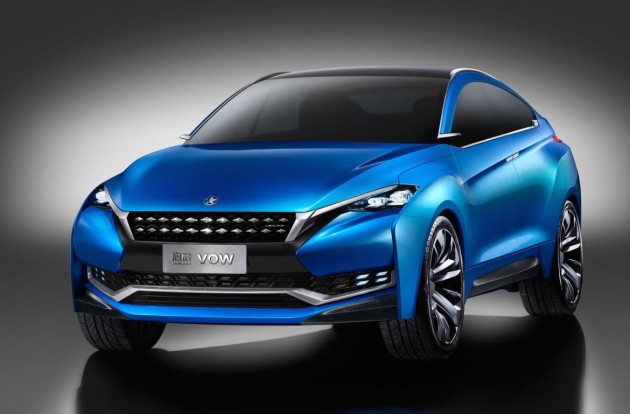 Chinese manufacturer Venucia unveiled its entry into the booming market segment, with this, the VOW. The name is an acronym for Venucia Over Wonder, and the design is significantly more sophisticated than what you might expect from an emerging brand.
If you didn't already know… Venucia is a brand under Dongfeng Nissan Passenger Vehicle Company, which is a sub-brand of Dongfeng Motor, Nissan's joint venture with Dongfeng Motor Group. The company is engaged in research and development operations, and manufacturing and distribution of passenger vehicles in China.
As for the VOW, it's a "trendy sport crossover concept" that is targeted at the youth markets, featuring a "forward thinking" and "bold design". You can see some Nissan elements in its design approach, particularly around the headlights and grille area. Zhou Xianpeng, brand marketing manager, explained,
"Venucia is going directly to the young generations and listening to what they have to say about their futures, their hopes and what inspires them. We are determined to bring forward a young and fresh brand that continues to challenge the status quo. We believe Venucia will lead future trends as an influencer, and enhance its place in the automotive market in China."
The company hasn't released any powertrain or technical details as of yet, but the exterior is painted in a blue inspired by Bolivia's Salar de Uyuni plateau. There are also cameras replacing conventional door mirrors, large alloys, LED headlights and suicide doors.
At this stage there are no confirmed plans for this funky little SUV to go into production, but with the Chinese market growing so rapidly, don't be a surprised if you see something similar on the streets in China soon.