In a bit of a surprise move, Volkswagen has taken the wraps of the new 2014 Volkswagen Polo. It showcases new technologies, improved efficiency, and some exterior styling updates.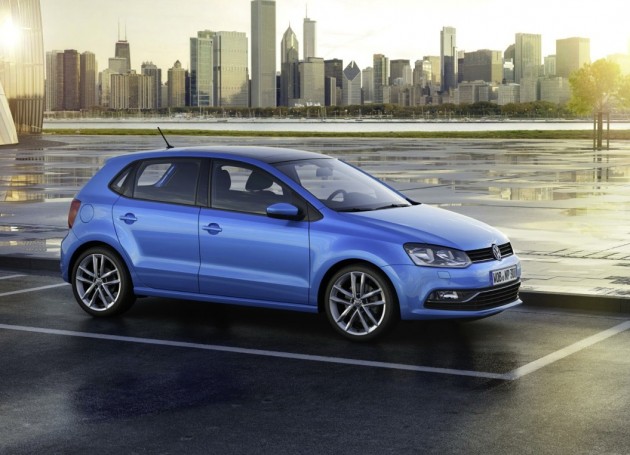 Only preliminary details have been revealed at this stage, however, the company says the new model will feature advanced systems that are also seen in the latest Mk7 Golf.
To kick off, all new Polo variants will come with automatic post-collision braking. In the event of a crash, the system automatically applies the brakes to make sure that further, roll-on accidents don't occur.
Optionally, buyers will be able to select from systems such as driver alert to help minimise fatigue-related accidents, front assist with city emergency braking, and automatic cruise control. These features are usually only available in higher end vehicles in larger segments.
Additionally, buyers will have the option of a new Sport Select suspension system. It incorporates electronically controlled dampers, offering two different settings. The option is paired with a new electro-mechanical steering setup that helps to improve efficiency while offering more precision.
Australian powertrain details haven't been confirmed yet, but in Europe, the new Polo will be available with three- and four-cylinder engines. These include two 1.0-litre MPI three-cylinders developing 44kW and 55kW, two 1.2-litre TSI four-cylinders with 66kW and 80kW. Diesel TDI units will also be offered, developing up to 66kW.
A range-topping 1.4-litre TSI will come with cylinder deactivation technology, with power boosted from the outgoing 103kW rating to 110kW. The company says the new GTI will join the range next year offering more power than the current 132kW.
As for the design updates, the new model shows off subtle details around the front bumper bar and grille, with a chrome line that separates the front fog lights. There's also new optional LED headlights – a first in the class – and minor changes around the back with a new bumper bar, new taillights, and a revised diffuser area.
The new model will go on sale in Europe during mid-year. A public debut is likely to take place at the 2014 Geneva Motor Show in March, with an Australian introduction expected to take place during late-2014/early-2015.