The next generation 2012 Ford Focus has only just been launched, but Ford has already confirmed it is going to be making a 2013/2014 Ford Focus RS hyper hot hatch version. The new Ford Focus RS will get more power than the existing model and remain front-wheel drive.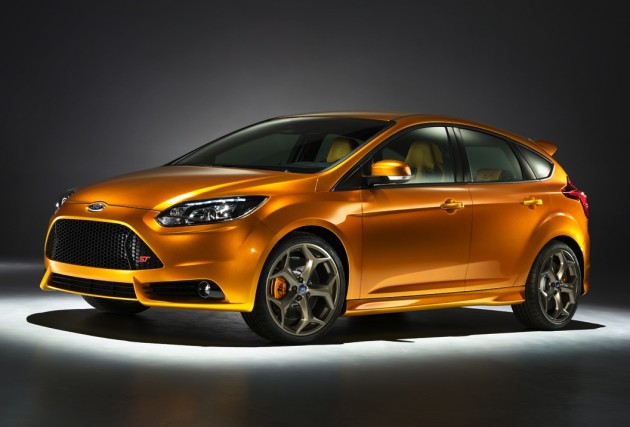 It has been a bit of a rumour for a while now, with various international motoring spies catching what they believed to be prototype 2012 Ford Focus RS models in disguise. Now there has been confirmation from Ford that a successor is in the works.
In a recent Drive report, Ford's international boss for small cars, Gunnar Herrmann, said that Ford engineers are indeed working on a next-generation Focus RS. Hermann said that the new Focus RS will come with more power than the existing model, offering more than 224kW and 440Nm.
As a general rule of thumb, various automotive engineers used to say that around 200kW was the limit for front-wheel drive cars. But Ford has done a great job with the RevoKnuckle front suspension system which has allowed more power to be harnessed and fed through the front wheels.
So how much of a power increase are they talking here? Hermann said in the report that engineers have been working on prototypes that have had up to 380hp. That's 283kW through the front wheels. However, the eventual production RS is likely to be toned down a bit to around 261kW.
The next RS won't come with the 2.5-litre Volvo five-cylinder turbo engine, instead, power will come from a revised version of the 2.0-litre turbocharged four-cylinder EcoBoost engine, also found in the upcoming 2012 Ford Focus ST (pictured) – 187kW.
Official market introduction dates for the 2013/2014 Ford Focus RS haven't been mentioned yet, however, reports say it will be in the showrooms some time towards the end of 2013. We'll keep you updated on any further details in the meantime.