So you've just landed your first gig as a young executive. You're on a pretty sweet salary, and looking sharp with a nice new suit. All you need now is a spanking new vehicle to match your swag and to let the neighbours know about your upward prosperity. Well, there's two very fitting options on the market right now for you that you need to know about.
Firstly, the Kia Stinger V6. It's Kia's first proper attempt at a luxury sports car. It has rear-wheel drive, a twin-turbo V6, and an elegant design inside and out. However, if you're a young exec type, chances are, you want not only a cool car, but a badge as well. Fortunately, BMW recently dropped the price of its awesome little hot hatch, the M140i, which means a badge is not as far away as you might have thought.
For this comparison we're going to keep it short and sweet because we know you think you're very important right now and don't have much time, but also because these cars aren't exactly perfect rivals. But, as you'll see, the pricing and the performance is very similar.
We'll be putting together proper individual reviews of these two soon, and go over the finer details.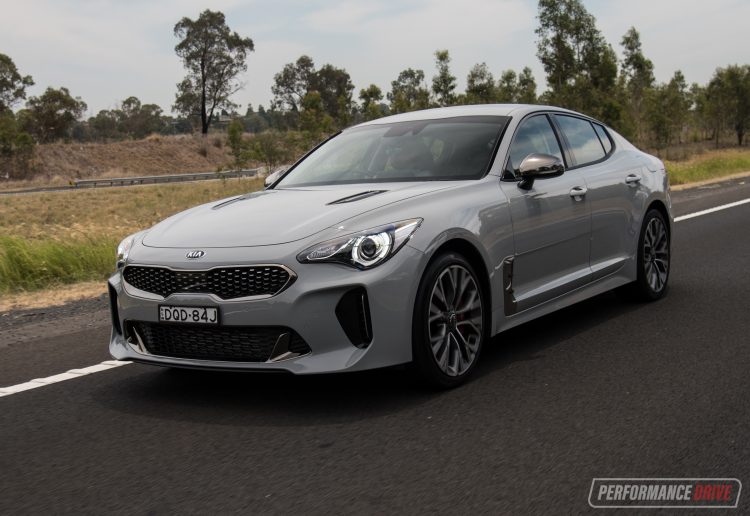 The prices
The Kia Stinger V6 starts from $48,990 for the 330S model, and then goes up to $55,990 for the 330Si (as featured here), to $59,990 for the top GT (also featured in some photos, red seats). It comes with an industry-leading seven-year/unlimited kilometre warranty, and seven years roadside assistance and seven years capped-price servicing. All as standard.
Scheduled services run every 10,000km for the V6 Stinger, with service prices starting at $252 for the first, to $785 for the last. Prices fluctuate in between these throughout the 70,000km or seven years (whichever comes first). More details on the Kia Australia website here.
BMW, rather conveniently, has put together a very tempting price package for the 2018 M140i as it prepares for the arrival of the all-new, front-wheel drive next-gen 1 Series which is coming in the next 12 months or so. Its starting price has been brought down to $59,990. And as a bonus, you can get it with a six-speed manual (as featured here) or eight-speed auto, with no price change. (All excluding on-roads.)
BMW offers a three-year/unlimited kilometre warranty, with 'Condition Based Servicing' that uses the car's on-board monitors to determine when services are due, depending on the driving conditions and so on. There's an optional BMW Service Inclusive (BSI) deal which is essentially a one-off payment that covers a majority of the services, with Basic or Plus packages.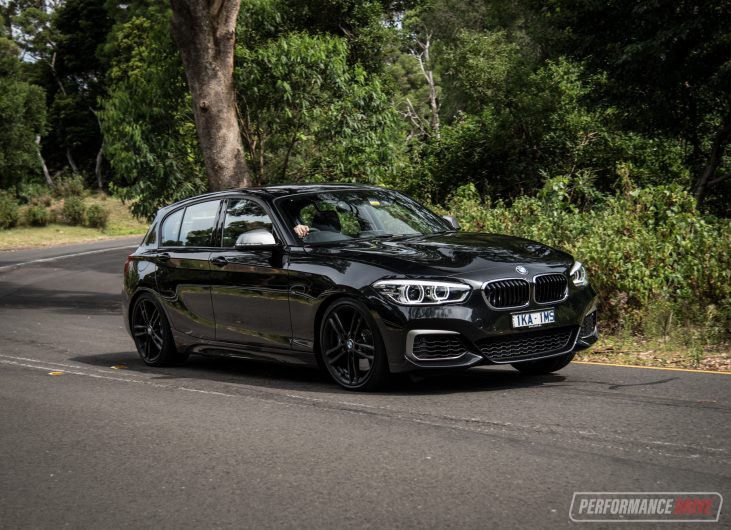 The specs
| | Kia Stinger V6 | BMW M140i |
| --- | --- | --- |
| Engine | 3.3-litre twin-turbo V6 | 3.0-litre turbocharged inline six |
| Output | 272kW of power at 6000rpm, and 510Nm of torque from 1300rpm to 4500rpm | 250kW of power at 5500rpm, and 500Nm of torque spread between 1520rpm and 4500rpm |
| Transmission | eight-speed sports automatic | eight-speed sports automatic |
| Drive type | rear-wheel drive | rear-wheel drive |
| Tare weight | 1780kg | 1418kg |
| Power-to-weight | 6.54kg:1kW | 5.67kg:kW |
| 0-100km/h | 4.9 seconds | 4.8 seconds |
Powering the Kia is a 3.3-litre twin-turbo V6 producing 272kW of power at 6000rpm, and 510Nm of torque from 1300rpm to 4500rpm. This is sent through an eight-speed sports automatic transmission and into a rear-wheel drive system with a limited-slip differential. The tare weight is listed at 1780kg, and Kia claims 0-100km/h comes up in just 4.9 seconds.
As for the 2018 BMW M140i, it's powered by a 3.0-litre turbocharged inline six that develops 250kW of power at 5500rpm, and 500Nm of torque spread between 1520rpm and 4500rpm. This is sent through the aforementioned transmission options and into a rear-wheel drive system, with an optional limited-slip diff. BMW claims 0-100km/h happens in 4.8 seconds.
As you can see already, these two cars are very similar in terms of on-paper specs. The Stinger might trump the Beemer on power, but the Bavarian hatch weighs in at 1418kg (tare). This means the power-to-weight ratio is in favour of the BMW; 6.54kg:1kW for the Kia and 5.67kg:kW for the M140i manual (the auto weighs an extra 25kg – 5.77kg:kW).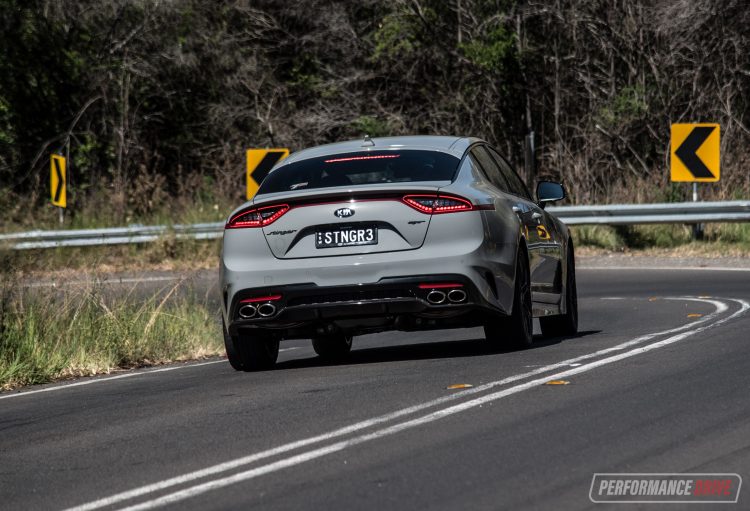 The package
Firstly, the boot capacity. Now this is an interesting one as, on first impressions, the scorecard immediately looks like it's going to be in favour of the 4.8-metre-long Kia. Glancing at the specs you'll see the Stinger offers 406L and up to 1114L with the rear seats folded.
In the little, 4.3-metre-long 1 Series you get 360L, which is expandable to 1200L with the rear seats down. It's a win to the Kia but only just. And we'd have to say, if you are planning on carting around bulky items regularly you probably will be better off with the wagon-like M140i and its taller ceiling.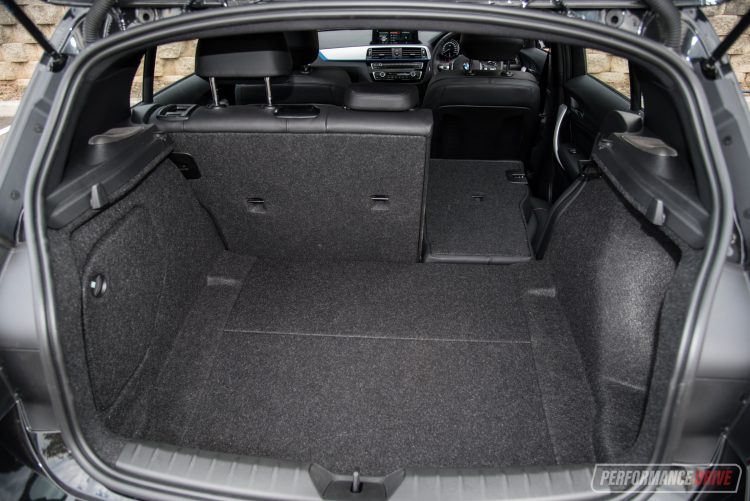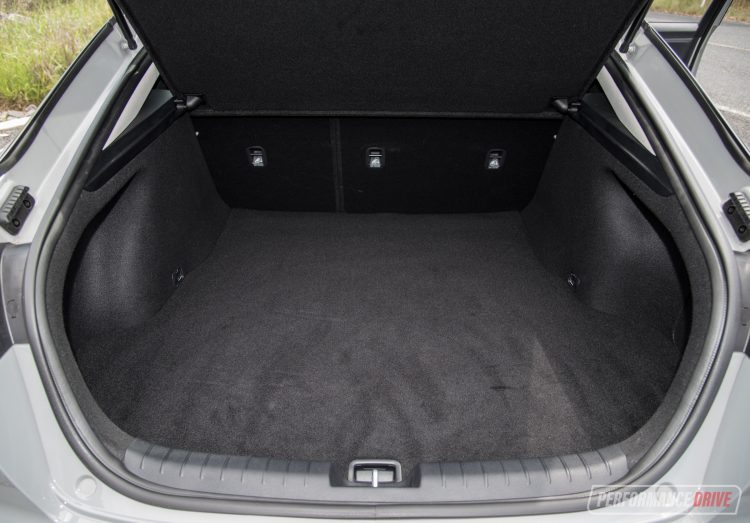 Where the leaderboard tips heavily toward the Kia is with passenger space. The front seats in the Stinger are large, with a pushed-forward dash giving it an airy and open feel. Front runners get dual cup holders, bottle holders in the doors and a big centre console box.
The A-pillar does spear downward a little bit, compared with the 1 Series anyway, but there is more space overall. Rear passengers are treated to much more space in the Kia. Legroom is abundant in the back, and there's a big flip-down armrest with adjustable climate vents and temperature control.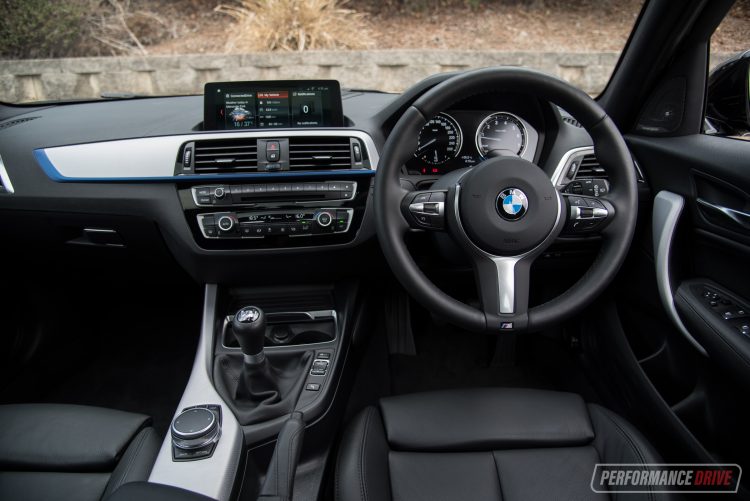 In the BMW the front area provides decent headroom thanks to its more upright cabin layout, with a relatively clean dash design and BMW's excellent iDrive6 infotainment controller down on the console. There's dual cup holders in the front and big, partitioned door pockets, along with a shallow centre console box. In the back things are tighter.
The 1 Series doesn't exactly offer the largest rear seat in the class, and obviously falls short of the Stinger. There's no centre armrest that folds down, but you do get both temperature controls and fans speed controls with separate adjustable vents. Centre-seat comfort is poor, and not just in comparison to the Kia. This is because the small hatch has to house a full transmission tunnel for the driveshaft and differential, remembering it is rear-wheel drive.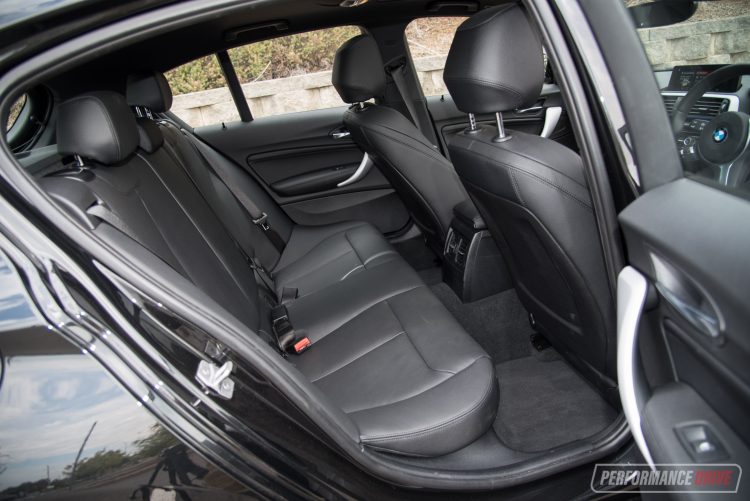 The drive
Make no mistake, the BMW M140i is a true BMW despite being at the entry-level end of the showroom range. And after being fettled by its M Performance sub-division, everything is turned up more than a few notches. You get adjustable M Sport suspension, blue-painted twin-piston front brakes, and one of the sweetest-sounding factory exhaust systems we've heard. The exhaust beautifully amplifies the singing inline six, with a nice little burble and rasp at either end of the rev range.
Around long sweeping bends the M140i hangs on like a car with a much longer wheelbase, and in tight twisty switchbacks the rear-wheel drive architecture provides an excellent and predictable driving character. It's not as oversteery as you might expect, and this is partly due to the open differential (LSD is optional). We think cross country ability is actually better without an LSD as you'd probably spend a lot of time sideways with one. In saying that, traction isn't really an issue. It doesn't waste away acceleration to inside wheelspin unless you put it into a really demanding situation, with very gentle and gradual understeer coming in if you follow a 'racing line' and progressively apply full throttle around the apex.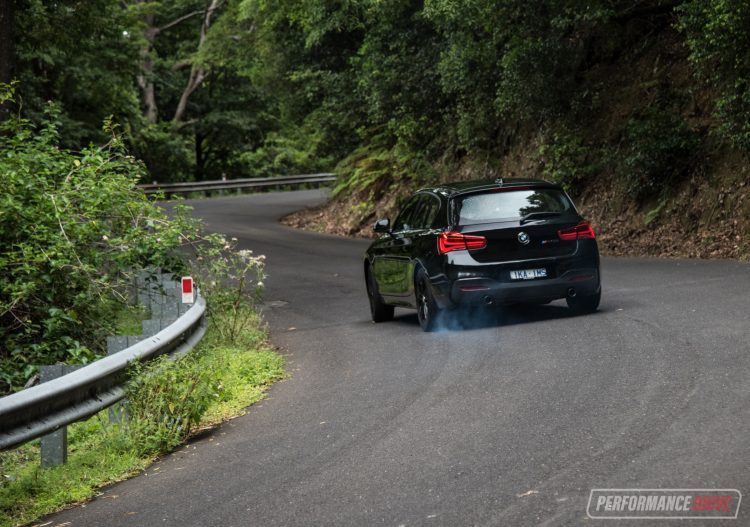 The best part about the M140i is the engine and driver engagement. With the manual transmission it really does feel like you're doing the legwork and the car is simply following your lead, a bit like dancing with a professional. In short, this is definitely a car that you'd set your alarm clock early on a Sunday morning just to go for a blast out on your favourite mountain or country road.
As for the Stinger, well, this is a big one. There's a lot riding on it, as it is essentially swooping in to occupy a market that used to belong to such vehicles as the Holden Commodore SS and the Ford Falcon XRs. Being a large car with a sizeable wheelbase, the Kia is inherently very stable. Surprisingly though, it's also extremely nimble and remains superbly balanced in tighter corners.
Communication through the electric-assisted steering is pure, if a little shy. But thanks to the progressive nature of the handling it's easy to predict understeer and oversteer. Understeer doesn't really occur anyway, actually. This beast is more about oversteer. Thanks to a standard limited-slip differential, the Stinger loves to shake its tail and slide for long, controlled drifts. With peak torque available from just 1300rpm, commencing a drift is as simple is leaning on the throttle from mid-corner/apex, or for longer drifts, just before the apex.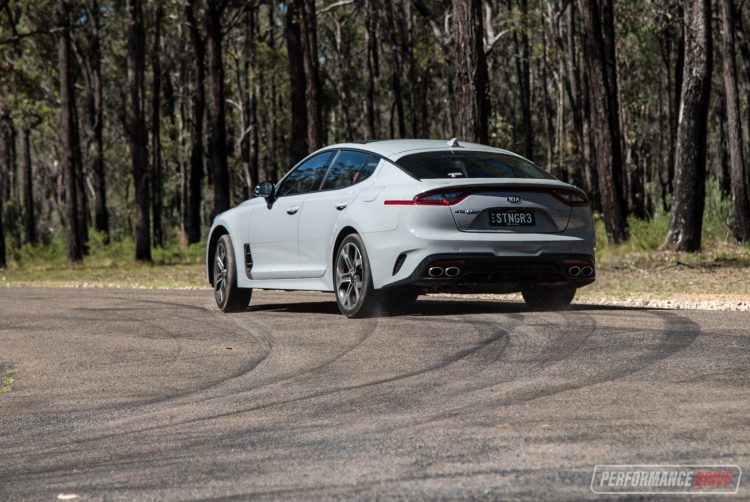 What we find a bit of a letdown is the general excitement of the powertrain and power delivery. The eight-speed auto is just that; a very typical automatic. It doesn't change gears super-fast or make a little fart noise on upshifts, and the engine is so linear that it's almost boring. With the optional bi-modal exhaust (offered in Australia only, as far as we know), the driving excitement is boosted a lot. This is an option we highly recommend, as without it the Stinger V6 sounds pretty much the same as a Kia Carnival V6.
Opting for the top GT version gets you adaptive suspension like in the BMW. And we can report there is a huge difference between the 'comfort' setting and the 'sport' setting. This does provide a higher level of versatility than the BMW. Whereas the BMW is pretty much only a refined hot hatch, the Kia, in comfort mode (which also quietens down the exhaust) can be enjoyed as a genuine luxury cruiser.
Stay tuned for our upcoming reviews of three different Stinger variants, where we'll talk more about plenty of other things that are great about Kia's cracking effort on a rear-drive sports sedan.
We'll also save our usual 0-100km/h testing and video of these two until the proper reviews. But we couldn't leave you with nothing. So here's a quick engine sound comparison video for you to enjoy in the meantime.
The verdict
The BMW gets our medal. The engine sounds better and offers significantly more character, and the availability of a manual transmission really adds to the sensation of driving. Pair that with superb handling and extensive pedigree and it's pretty hard to beat. We enjoy the steering a lot more in the BMW, compared with the Stinger's less flavoursome setup, and although the cornering speed and stability might be higher in the longer wheelbase Stinger (the Kia probably laps a circuit quicker, too), the BMW just feels more interactive and, of all things, fun.
In terms of a young executive's vehicle, the Beemer also wins. It provides greater bragging rights and has more brand cache, and you won't have to do any explaining to your workers, like you might have to in the Kia.
The Stinger is definitely an outstanding motor vehicle though, don't get us wrong. It's a credible sports car and a thought-provoking luxury product in one, with unbeatable warranty and servicing. It also presents an elegant yet muscular design that really sets new standards in the sedan classes.
Be sure to stay tuned for the reviews of each car where we'll go over them with a finer-toothed comb and see how they shape up in their respective segments, with fairer evaluating conditions.