The engine sound of a prototype 2012 991 Porsche 911 has recently been captured on film in Stuttgart, Germany. The new Porsche 911 was seen at a local service station wearing very little camouflaging, an interesting new brown colour scheme and a strange sunroof cover.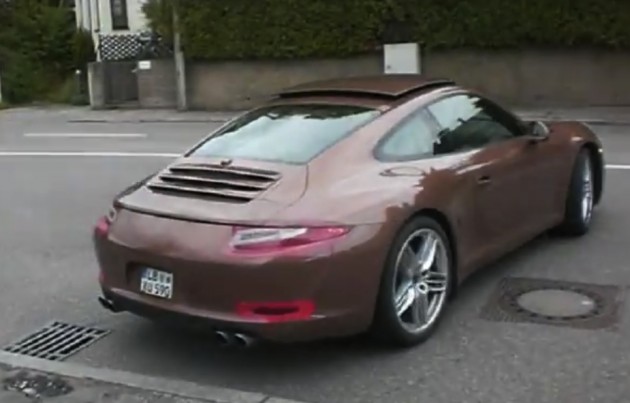 The test driver obviously didn't want to give the enthusiastic cameramen any taste of the new flat six engine sound at full noise, but we do get a bit of a glimpse of the engine sound at idle and while accelerating up to speed.
It is a bit hard to tell from the video if the prototype is a Carrera S or just a normal Carrera 911. If it is the Carrera S, the sounds you are hearing are of the revised 3.8-litre flat-six engine which will output around 294kW. If it's a base model, you're hearing the sound of the all-new 3.4-litre flat six, which will output around 257kW.
The prototype 991 Porsche 911 does sound very raspy in the clip, especially just off idle. There's a distinct harshness to it, keeping with the traditional 911 engine soundtrack. We can't wait to see some full tests of the new model.
Stay tuned for our full coverage of the official 2012 991 Porsche 911 unveiling at the 2011 Frankfurt Motor Show, starting on September 13.
But before then, what do you think of the new brown colour? It has some taste to it, but it's not really the most aggressive sports car colour. What do you think?
For more details on the 991 2012 Porsche 911:
– Next 991 Porsche 911 to get eletro steering and seven-speed manual
– Video: Official 991 Porsche 911 teaser
– 2012 (991) Porsche 911 interior revealed