Global NCAP has released its latest set of Indian car safety rankings, with five models achieving an unbelievably terrible score of zero.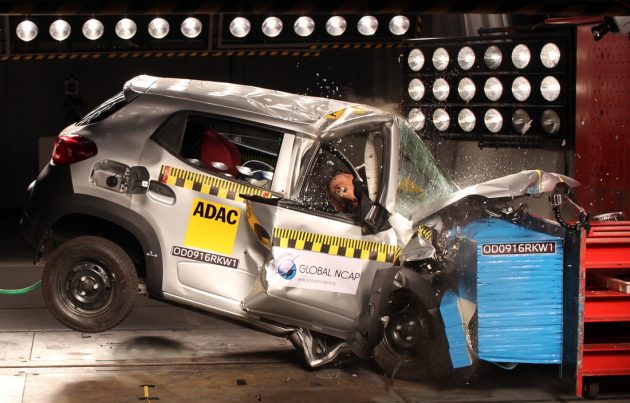 The findings of NCAP's Indian crash test data shows that the Renault Kwid, Maruti Suzuki Celerio, Maruti Suzuki Eeco, Mahindra Scorpio and Hyundai Eon offer very minimal crash protection for the driver and passengers.
The frontal collision test takes a vehicle up to speeds 64km/h and analyses the data for things like structural integrity, effectiveness of airbags, and the level of G-force the occupants are subject to.
All five cars returned scores of zero, signalling the vehicles are considered dangerous and unfit for sale. The Renault Kwid, for example, was marked down for the absence of airbags in 2 out of 3 variants, and damage to the frame. Secretary for NCAP Global, David Ward, said:
"It is very surprising that a manufacturer like Renault introduced the Kwid initially lacking this essential feature. Global NCAP strongly believes that no manufacturer anywhere in the world should be developing new models that are so clearly sub-standard."
He urged Renault to rectify this issue, saying NCAP looks forward to testing another improved version with airbags. Renault CEO assured the buying public that the Kwid would not enter the European fleet, and Renault's Indian arm has since confirmed it will improve the Kwid's test results.
The Mahindra Scorpio also recorded devastating findings after crash tests, with the main structure of the car collapsing. NCAP said the car would present a "high probability of life threatening injuries" in the event of a crash. It's a similar story with the Suzuki Eeco. NCAP said that even if the car was fitted with airbags, they would not likely help avoid life threatening injuries to the driver.
Fortunately for Australians, none of these vehicles are sold here. Even so, it's chilling the see the results of these cars after crash tests, and the fact that any carmaker would offer them on the new car market in the first place. Check out the videos below to see how they performed.
Renault Kwid NCAP crash test:
Mahindra Scorpio NCAP crash test:
Suzuki Eeco NCAP crash test:
Suzuki Celerio NCAP crash test:
Hyundai Eon NCAP crash test: