A BMW M235i Coupe has been spotted at a special dealership presentation, revealing not only the new performance model but also the design of the new 2 Series Coupe.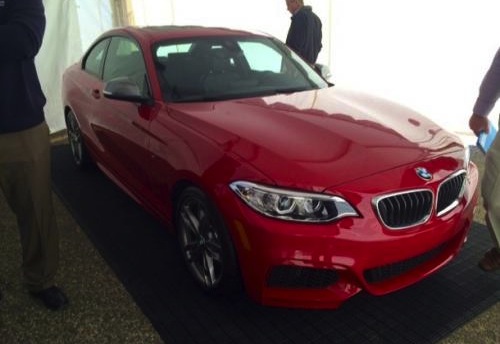 As reported earlier this week, BMW is planning to unveil the new 2 Series Coupe at the Detroit auto show in January. However, it looks like Christmas has come early. Here we see the full exterior design of the new model. The 2 Series will replace the current 1 Series Coupe.
The 2 Series will take on a facelifted form of the current 1 Series hatch design, with thinner and longer headlights, while the rear and side profile appears to be similar to the current 1 Series Coupe.
It will come with an iteration of BMW's glorious 3.0-litre turbocharged inline six engine, producing around 240kW and 450Nm. This should be powerful enough to see the coupe sprint from 0-100km/h in 4.8 seconds.
Being an 'M' tuned model, the M235i is very likely to come with a full suite of tasty performance enhancements, including sports suspension and brakes, a beefed up drivetrain with manual and automatic transmission offerings, and a subtle yet sporty interior and exterior.
More details will be uncovered in the next few months before it eventually goes on sale by mid-2014.